76 Series Landcruiser, Modified.
Finally after a long wait for many viewers we have a 76 series Landcruiser on Modified!
But it was worth the wait as this is Toyota 70 series wagon is built as tough as they get and is the fastest 76 series Landcruiser in Australia, yep this diesel machine has be running 14 seconds on the quarter mile drag strips!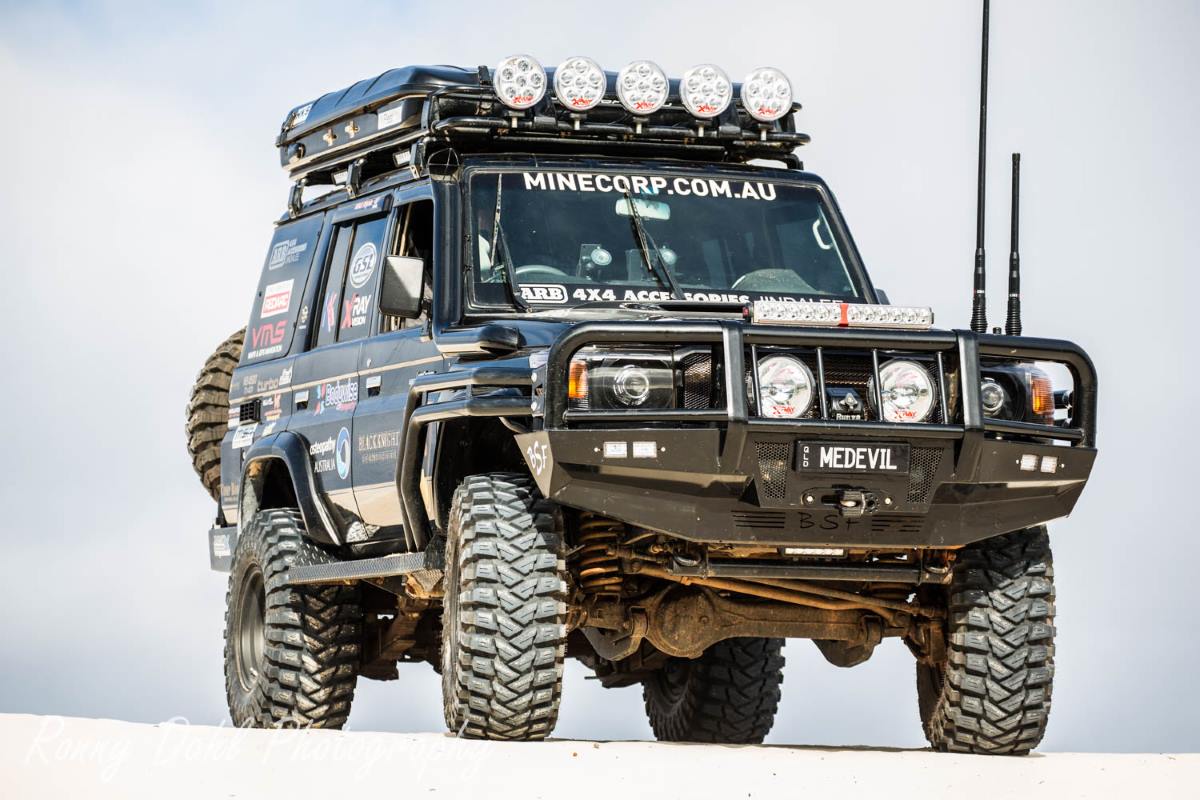 Click Any Image To Enlarge Or Open Photo Album.
---
This fast tough looking Landcruiser wagon is known as the Black Knight and owned by a bloke called Anthony Collins.
This entire build started after a month long journey to the outback getting away from the stress but at the same time looking for answers and working out
his future after a bad mountain bike accident which left him with a badly damaged left hand which was then made worse after surgery.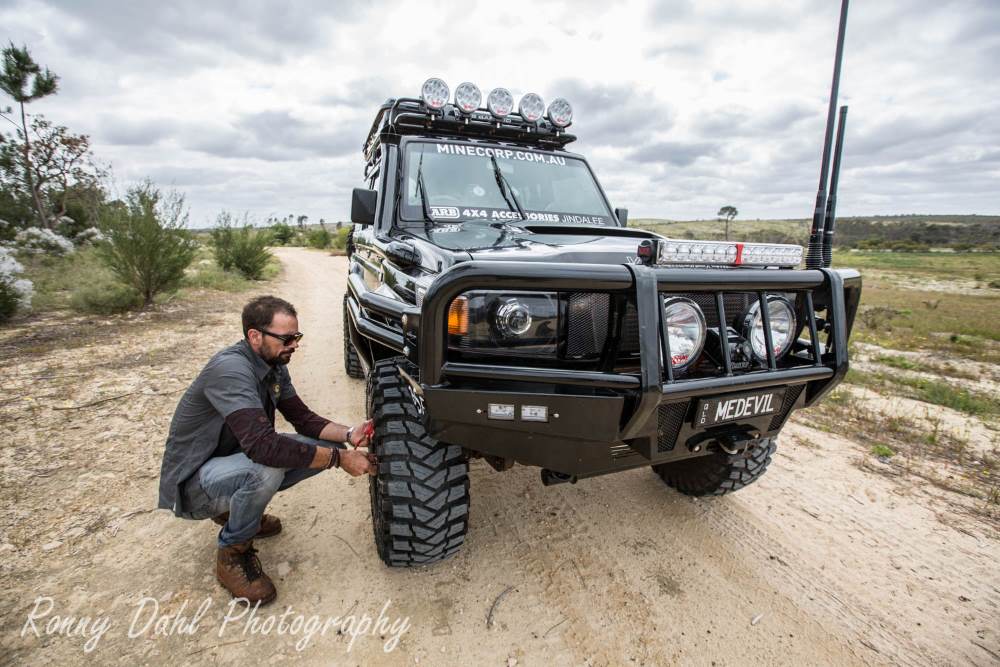 While Anthony was in the outback he saw plenty of 70 series Landcruisers roaring around and decided that he wanted one!
A while later he has built a monster but at the same time setup a program reaching out to farmers in need of osteopathic treatment.
All the stickers on the vehicle represent all the companies that have helped make both the build of the 76 series wagon and the remote farmers osteopathic treatment program happen.
To get the story and the build in detail see the video below.
---
Vehicles factory stats (NOTE* modded details below):
Make model:Toyota 76 series LandCruiser
Engine:        VDJ76 FTV, V8 Turbo Diesel
Drive train:   5 speed Manual, part time 4x4
Suspension: Solid front on coils and solid rear axle on leafs, twin locked diffs.
---
Anthony's mod list for his 76 series Landcruiser:
Engine:  
HKS Modules
70+Injectors
GTurbo Red Wheel
2"GSL Crossover Pipe
4" GSL Stainless Steel Exhaust
5" GSL Dump Pipe
GSL Stainless Plenum and intake
PWR Front Mounted Intercooler
NPC Clutch
Custom AirBox and Custom 4" forward facing Stainless Steel Snorkel with K&N Filter
Fuel Manager Secondary Fuel Filter
Optima Yellow Top Battery
HiTech Brass Core Radiator
Electric upgrades:  
Revolution Power Australia 60ah Lithium Batter
RedArc Boost/EGT/Dual Battery Gauges
RedArc 1000W Inverter
RedArc BCDC Lithium Battery Charger
VMS Offroad Double Din Multi-Media Head Unit
EHarrop Front and Rear Lockers
---
Lights: 
All Accessory Lights are by X-Ray Vision Lights:
Forward Facing Roof Lights: Middle 3 are Spot Quad-Optic 175 Series, Outer 2 are 175 Series Spread
BullBar Mounted Lights: 2 x 220 Series HID SpotLights, 1 x Quad Optic Light Bar, and Down Low on Bull Bar is a single 3W Slim Line LED light bar.
The accessory Camp lighting around roof line between roof rack and roof are 7 x 3W Slim Line LED Light Bars. Headlights are HID Projectors.
Comms & GPS: 
Bull Bar Mounted Antennae = GME 1 x 6.6dbi and 1 x 2.1dbi
2 x GME 4500WS Radios
1 x Satellite Phone Extreme
1 x GME Personal Locator Beacon
Suspension and tyres: 
        Fox Racing 2.0 with Remote Reservoirs Fully Adjustable Canisters 9 settings hard to soft
        Partsman CompRods Radius Arms
        Dobinson Coils
        EFS Leaf Sprongs 300kg Constant
         Boss Triple Bellow Air Bags
         Tyres are 6 x Maxxis Trepadors 35x12.5 R16
        Rims are 6 x ProComp 69 Series 16 x 10, -25 Offset in Matte Black
Bar work and exterior mods: 
         Baguley Steel Fabrication Front Bar, Side Rails and Side
         StepsKaymar Rear Bar Twin Wheel Carrier
         ARB ¼ Trade Steel Roof Rack
        James Baroud Espace Tent, 4 x Black Maxtrax with Tyre Harness
        Tinted Windows 5%
         JMACX Offroad Solution Rear Diff housing and axles
         Bushranger Hot water Shower
         Longranger 167L Fuel Tank
         Longranger 47L Water Tank and Pump
Recovery gear: 
         ARB Premium Recovery Gear, including 2 x Extension straps, 1 x Snatch Strap and 1 x Tree Protector, Chain, Snatch Blocks, U-Bolts x 5 (3 are vehicle mounted)
Interior:
        Kruiser Kustoms Touring Drawers and Fridge Slide
        Department of the Interior Roof and floor consoles
        MineCorp Internal Roll Over Protection Bar work
        Fully dynamatted (sound-proofed) throughout.
---
Anthony's top 3 trips in the 76 series landcruiser:
14,500 Coast to Coast trip including great tracks and sights such as The Madigan Line through The Simpson Desert, The Gun-Barrel Highway, Steep Point,
The Pilbara inc Kirinjari NP, The Gibb River Road, The Tanami, Strezlecki and Oodnadatta Tracks
Fraser Island
Darling River Track, Paroo River Track and Mutwinji NP
---
Unstoppable moment in the 76 series Landcruiser:
.. On this recent trip after completing a hellish Madigan Line I took a wrong turn and ended up in deep swampy water and marsh coming into Mt Dare.
The water was over all wheels and all I could think to do was stomp the right boot down and feed it to the max. If I didn't I couldn't see any way of getting out without flooding the vehicle.
Luckily the old girl pulled me through with the help of the extra power and the Maxxis Trepadors.
Most scary situation in the 76 landcruiser wagon:
On our trip to Fraser in March I was coming back from the tip, heading southbound and negotiating the infamous Ngkala rocks sand dunes.
This was no problem until I rounded the last bend and where the road narrowed with a steep drop off into the waves on my left and there was a vehicle bogged blocking the way out.
My only choice was to head to my left, which initially seemed wide enough, but I didn't really take into account how much the sand would shift me side ways and I very nearly ended up in the salty water.
I managed to prevent a precarious tilt left by stopping, digging out in front of my right side tyres and placing my MaxTrax under my left side tyres.
Then I locked her up and as I crept forwards she leveled out and I managed to slip through unscathed.
Very much a scary moment.
Anthony's modification tips:
Take your time, ask questions of many people on forums etc, draw a sketch of what you want you dream vehicle to look like and it will help guide you through the often confusing process of what to add.
Choose a logical order and be very kind to your Mrs as this is going to be an expensive process. But also, take some joy out of the journey.
There's no rush, and once it's finished you'll be proud of what you've achieved as it'll be a close resemblance of what you set out to in the first place and also a true reflection of the man/woman that built it.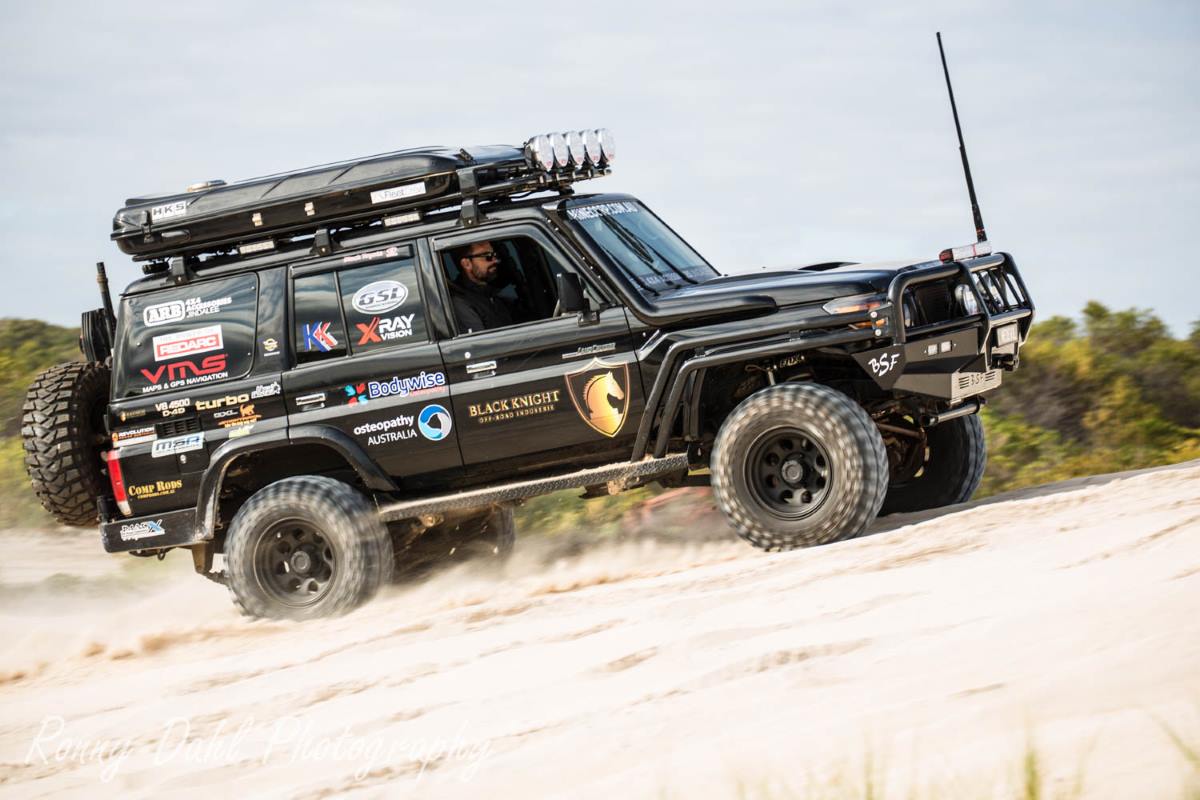 Top 3 tips with the 76 series Landcruiser:
1.     ...  Buy a fully sealed water cooled alternator at the earliest convenience. This is a design flaw in these vehicles and there's no point having a fancy lift and power mods if your vehicle is stuck in a bog hole with no power to even run.
2.      ….  If you're tall then buy a Workmate or GX cos you'll get irritated by the GXL Electric window location digging into your leg constantly,
3.       …. Dynamat really does make a difference to comfort and reduced driver fatigue due to road noise. Best installed when new.
Things to look out for if buying one:
Sloppy finishing buy Toyota. Check all your fittings closely for marks or sloppy finishes. You paid good money. Do this before you drive out the door.
---
Best mod/s you have done and why:
… Sealed Alternator. Reasons above.

… Performance Mods - Because it seriously pulls hard and I have a heavy vehicle and need the extra power.

… Personally Designed Snorkel - because it really gave my vehicle a personal touch and I'm really proud of it.
What made you decide to choose this vehicle?
Toyota V8 Turbo Diesel that looks and sounds like a veritable beast. I had to have it.
Best thing about the 76 series wagon:
Personally I think they look great and the shorter wheel base means that a Dyno of 200rwkw in a 76 needs to be 250 in a 79 for the same real-world speed and acceleration due to less loss of torque with shorter drive shafts.
Worst thing about the 76 series Landcruiser:
Lack of internal room as my ambitions grow.
---
The Modified Video.
Nov 21, 23 07:40 PM

On this page we cover 4x4 off road tracks within a 250 km radius from Perth...

Nov 21, 23 07:35 PM

Jurien Bay 4x4 tracks info and general information about the area...

Oct 10, 23 09:31 PM

This caravan park is very clean. The ablutions are spotless. The washing machines are free but need to keep them clean. Easy parking for big rigs and if
---
Leave 76 Series Landcruiser And Go 4 Wheeling In Western Australia.
---