This build is a great mix of DIY and quality products so money has been spent but only where required and it really shows it in the episode. What may not seem like much from the outside is actually hiding a lot of cool mods.
Jason and his wife have joined us on a tag along a while back so it was a great surprise to see them both on the east coast.
---
Vehicles factory stats (NOTE* modded details below):
Make model: Toyota Landcruiser 105 Series
Engine:  1HZ n/a 4.2ltr 6 cylinder           
Drive train: 5 speed manual transmission
Suspension:  Live axle, coils all round
---
Jason's mod list for his Toyota 105 series

Landcruiser

:
Engine: 
·         Factory snorkel
Electric upgrades:  
·         Dual battery system (home designed and installed) comprising of an Optima Red Top 800cca start battery and a Full River 120a auxiliary battery managed by the CTEK D250S battery management system which automatically switches between alternator input to solar input once the panel is connected.
·         Power distribution via 3 merit sockets, 5 cigarette sockets (3 factory) and 5 USB ports.
·         Power input via CTEK Comfort Connect for a 12v battery charger and an Anderson Plug in the rear for the connection of the 160w solar panel
·         Reverse camera installed
·         Battery monitoring via a National Lunar dual battery monitor fitted to the dash, a voltmeter fitted to the power panel in the rear and a voltmeter on the rear switch panel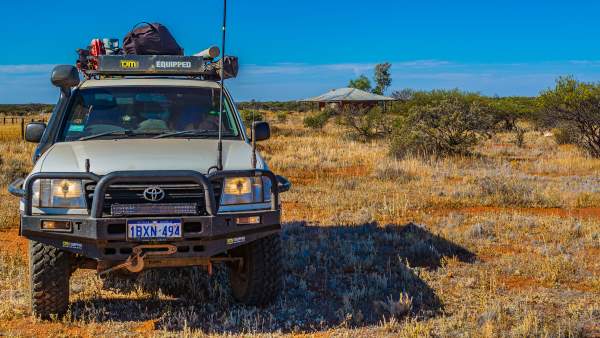 Lights: 
·         Internal lighting consists of 2x 150mm LED strip lights (rear and storage deck), LED strip lights under the deck either side, LED internal light in the cab and a Narva map light fitted to the passenger A pillar
·         External lighting via a Narva 900 lumen work lamp fitted to the rear of the roof rack and 2x 500mm 450 lumen strip lights fitted to the inside of the awning with the provision to add extra strip lights as required. Telescopic Quantum 1600 lumen LED light bar fitted to rear wheel carrier
·         STEDI 23" LED Light bar
Comms & GPS: 
·         Uniden UH-089 40 channel UHF coupled to a GME 3.1dBi aerial
·         ICOM IC-400 40 channel UHF coupled to a GME 7dBi aerial
·         Uniden 5w handheld radio and
·         2x Uniden 1w handheld radios
·         Navigation via HEMA Navigator HN6 backed up by HEMA and Mudmap running on the iPad along with paper maps
·         EPIRB
---
---
Suspension and tyres: 
·         Old Man Emu 2-inch lift front and rear.  Rear rated constant 400kg to GVM.
·         Old Man Emu steering dampener
·         265/75R16 Bridgestone Dueller M/T fitted to 16" Black Trak steel rims
Driveline mods:
·         Diff breathers from Piranha off-road
·         Transmission and transfer case breathers
Bar work and exterior mods: 
·         TJM winch bar
·         TJM scrub bars and rails incorporating sidesteps
·         TJM aluminium roof rack
·         TJM underbody protection
·         Roo Systems 12,000lb winch w/- 28m Dyneema rope
·         Powerful 4x4 Rock Armour rear bar fitted with single spare wheel holder and twin jerry can rack
·         Drifta Supa-wing 270 degree awning
·         Roo Systems shovel & hi-lift jack holder
·         Rated recovery points fitted to the front
---
Fuel capacity and range:
·         145ltrs over two tanks with a range of around 1000kms
Interior (cab): 
·         Drifta carback combo vertical comprising the fridge box fitted with the Drifta fridge slide system, single drawer, laminated free-standing table and the Drifta two drawer carback kitchen.  On top of this unit is custom designed storage from Drifta that holds our awning walls, Cgear matting, peg kit, toilet and the 160w ITECHWORLD solar panel. On the front side is where the sand flag is stored.
·         Replaced the rear seat with a custom home built raised deck with storage underneath for the swag awning, rope bag, sand pegs, water collection kit, extra LED lighting kit, ensuite tent and a compartment to house the auxillary battery.
·         Replaced front seats with Recaro bucket seats and a custom centre console with a Waeco 21 litre fridge, drink holders, storage for the DSLR camera when driving and storage for a set of hiking poles
·         Autosafe cargo barrier (also supplied by Drifta) fitted behind the front seats provides storage for an axe, entrenching tool, first aid kit, tyre deflator and a compartment organiser and EPIRB on the front side.
·         MSA Dash Pod holding torches, tyre gauge and fly nets.
·         50ltr water tank fitted in front of the deck.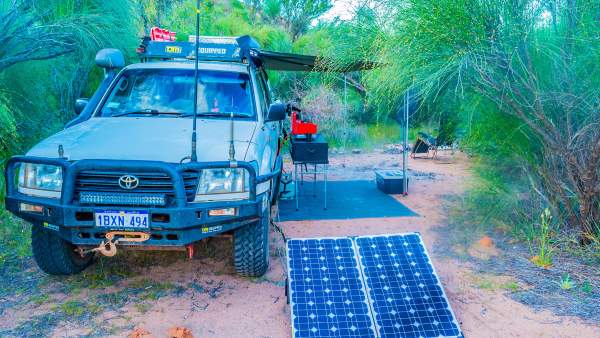 Recovery gear: 
·         ARB winch recovery kit comprising tree trunk protector, winch extension strap, snatch block and dampener along with rated shackles and gloves
·         Sand recovery kit comprising a bridle, snatch strap, rated shackles and gloves
·         Go to snatch strap under the drivers seat
·         Hi-lift jack
·         Drag chain
·         Long handled shovel
·         Entrenching tool
·         2x 1100cm TRED recovery boards
·         Axe
·         Bow saw
·         1pr rubber boots
·         3x rated recovery points fitted to vehicle
·         Extensive tool kit carried on-board and spares
·         2x First Aid kits
·         1x cervical collar
·         1x 2kg fire extinguisher
·         1x fire blanket
·         a bushfire survival kit
·         High Vis vests x2 under front seats
---
Jason's top 3 trips in the 105 series Landcruiser:
Southwest Tour in 2015/16 Busselton to Israelite Bay
Across Australia 2017 relocating to Gloucester NSW
Mt Augustus 2016
---
Unstoppable moment in the 105 Landcruiser:
 It's a 105 they are unstoppable wherever you put them, never let me down offroad yet.
Most scary situation in the 105 series Landcruiser:
Returning from two weeks in Exmouth we were going into Ningaloo Homestead along the heavily corrugated access road.  About 10kms from the homestead we lost the left rear wheel. 
The alloy rim had failed, loosened the nuts and the wheel departed into the scrub. 
Fortunately, damage was limited to the rim and could, with assistance from other travellers, recover the vehicle, effect repairs and get home.
Jason's modification tips:
Research, research, research and if you can, do a lot of the work yourself.  This will save you money and give you a better understanding of your vehicle should something go wrong out bush.
---
Top 3 tips:
1.  Be wary when ordering a rear bar from Powerful 4x4 ensure they send you the right bar and replace every factory nut with nylocs.      
2.  If doing long distance touring, and you can afford too, replace the factory fitted seats.  Having the Recaros fitted has made a major difference to how we pull up at the end of a long day driving.     
3.  You don't necessarily need large lifts and lockers to see this country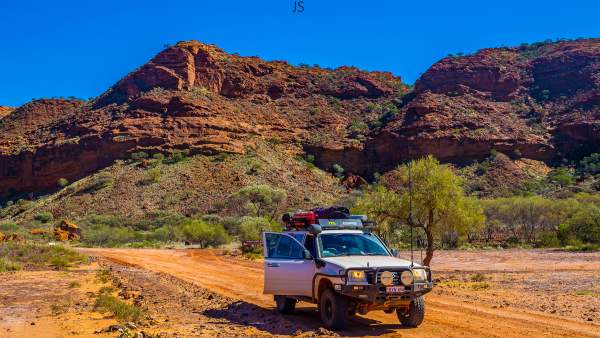 ---
Things to look out for if buying one:
Service history
Rust above windscreen and in roof gutters
Best 3 mod/s you have done and why:
1.    . Recaro seats – for the distances we do they make all the difference to how you pull up at the end of the day and to be able to get back in and do it all again the next.
2.    . Supawing awning – we vehicle base camp so having a large under cover area is extremely important to us.  The Supa-wing from Drifta covers 270 degrees and is made from heavy duty Australian canvas.
3.    . Storage – Having a good quality and organised storage unit in your vehicle is a must.  Our unit from Drifta that incorporates our fridge has been fantastic and can't fault it.