The Lennard track is a 4WD only track and is day use only, to preserve the track, it's also closed seasonally to prevent erosion and disease spread - particularly Jarrah Dieback (phytophthora).

There are some breath taking scenery along this track with access to the Collie river in a few places, the track itself is pretty fun to tackle as it's in hilly country.
The last section of the track has a very steep hill climb which would be near impossible if it was wet.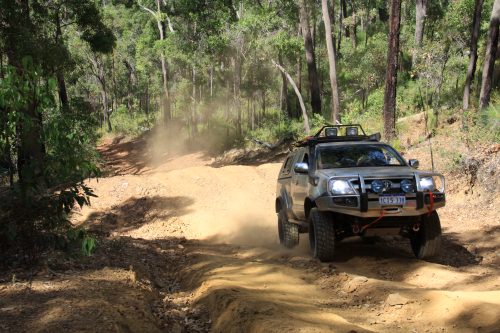 Hill climb at Lennard.
After you exit the Lennard 4x4 track there are more tracks that are challenging in the area. One of them is the fire break track not far from the end of the Lennard 4x4 track. Parts of this fire break track are very fun and challenging.
Some of these parts require diff lockers and rock sliders in order to navigate, but as most of the hard extreme sections there is a chicken track around it the long way.
There are also many other parts of the fire break track I have yet to explore, as it borders the whole Wellington National Park.
See below for GPS waypoints. Many challenging sections are within 5km radius of the "hardcore waypoint" below. If challengers are your thing then you won't be disappointed.

Deeper south into Wellington National Park there is a power line track which I have been told is similar to the Mundaring power line track. I have not seen this area yet myself but intend on exploring it sometime in the near future.
---
Wellington Dam.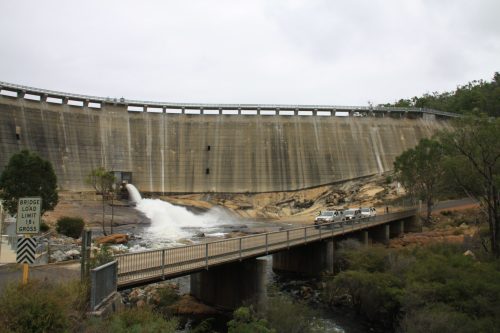 The Wellington dam is worth visiting if you're in the area. It's a great place to take a few photos and stretch your legs for a while.
The dam was built in the early 1900's and is the second biggest dam in Western Australia and is one of 2 dams that generate power. The maximum water capacity is 185 gigaliters or 74,000 Olympic swimming pools.
SEE ALSO 4 WHEEL DRIVE SAFETY TIPS.

---



Track conditions and difficulty

.
Medium - Moderate
Lennard track requires high clearance and low range gearing, and are 4WD only tracks, no SUV or All Wheel Drive should attempt Lennard track.
Lennard track & fire break tracks I recommend 18-24 PSI.
The Lennard track is relatively medium difficulty until you reach the very steep hill climb at the end. I have seen people struggle on it, fly up it in 3gear low and others just crawl up in 1 or 2 gear low. Using the recommended tyre pressures you should have no problem.
The fire break track has a few extreme challenging sections which may require diff lockers and will require rock sliders. However there are chicken tracks around these gnarly sections.



Camping at Wellington National Park.

There are a few camping spots in the Wellington National Park most of these are first in first served and they fill up very fast on weekends, so to ensure a place it's best to get there early.
Honey moon pool
Potters gorge
---

GPS Waypoints: