10 Off Road Tips For Inside The Cab.
A very much over looked area is the inside of the vehicle, the very place you make all of your driving decisions and spend a lot of time while off the beaten tracks.
These inside cap Off Road Tips will give you great ideas and a very good insight to 4WDing for those very new to this lifestyle and will add some safety to you and your occupants.
---
10 Off Road Tips.
1.       How to hold your steering wheel while off-roading. YES there is a right and wrong way.
If you grasp your steering wheel with 4 fingers over and one thumb under I'd strongly suggest not to do so before you find out the hard way.
Experienced 4 Wheel Drivers will know this one too well.
Holding the steering wheel with the thumb tucked under will eventually result in one of the following; broken thumb, dislocated thumb and if you are lucky just a very sore thumb/hand.
What happens is if you hit a rock, log or sudden grip in a direction while off-roading (common thing to do/happen) the steering wheel will rip to one side very fast wherever it be quarter or full turn it can easily injure your hand.
The CORRECT WAY to hold the steering wheel is with just 4 fingers over and your thumb in the same direction as the fingers.
Click Any Photo To Enlarge Or Open Photo Album.
---
2.       Wearing seat belts we consider is very important and we even recommend our U.S. followers to do so as it really helps keep you in the driver's seat while off-roading on the real rough stuff.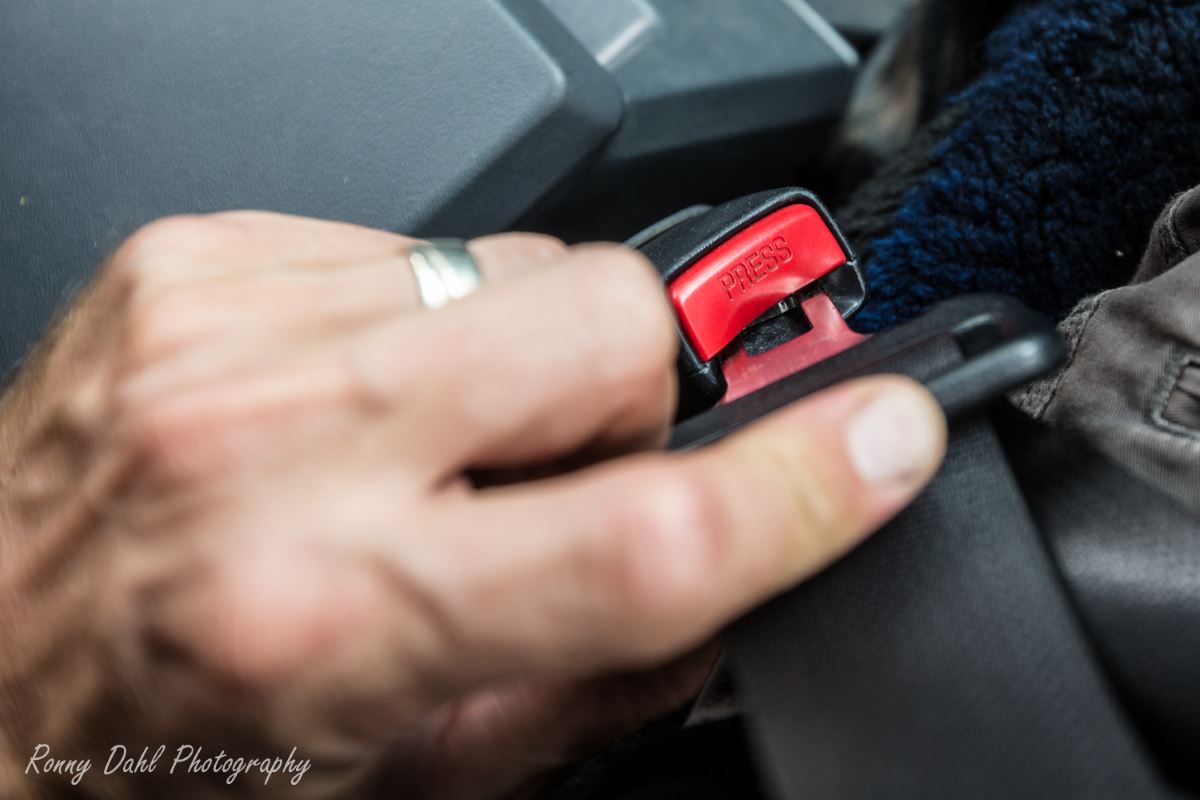 Also it's a great strap for when descending those huge sand dunes or simply very very steep terrain. Oh and not to mention in most countries around the world it is law to wear them and the road rules apply off-road too.
---
3.       Keep the floor clear.
Why, because those flip flops/thongs or shoes you just took off and left under your seat WILL slide under the pedals at some stage when on the rough stuff or going downhill. I'm guilty of this one…
See Also:Best Tools & Gadgets for  inside the Cab when Off-Roading. 
---
4.       Use the FOOT WELL when going through the bumpy and rough sections. Why?
Because it helps A LOT with keeping the revs/acceleration level steady, rather than jolting forwards and back. One of the best off road tips for rock crawling.
---
5.       This one is for the ladies and gents who own a winch.
You are stuck and can't go forward but you will slide backwards if you release the foot brake… What do you do? Well lucky your mate can help you with you winch and hook it up. BUT where is your winch remote?!!!
Keep the winch remote in a handy spot so you can pass it out the window to your winch buddy!
---
6.       One of my favourite in cab off road tips is the reversed seat organizer! You just can't beat it, but it only works if you are traveling with no passengers in the front seat as that is where it will be holding all your stuff within easy reach!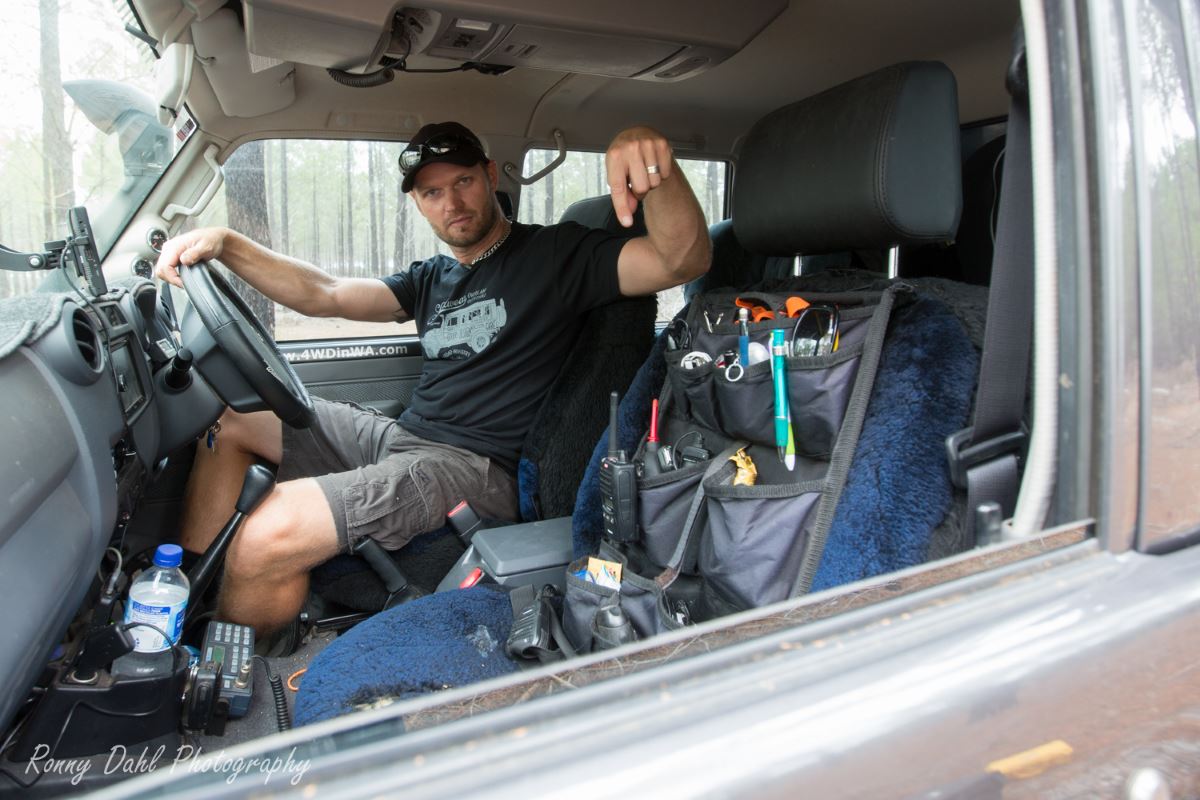 7.       Sun visors are a great place to add a small storage pouch for maps or for mounting an off-road GPS unit.
And on the safety side of things best to keep that visor fully open or flip up as half way could open your head up like a hard boiled egg…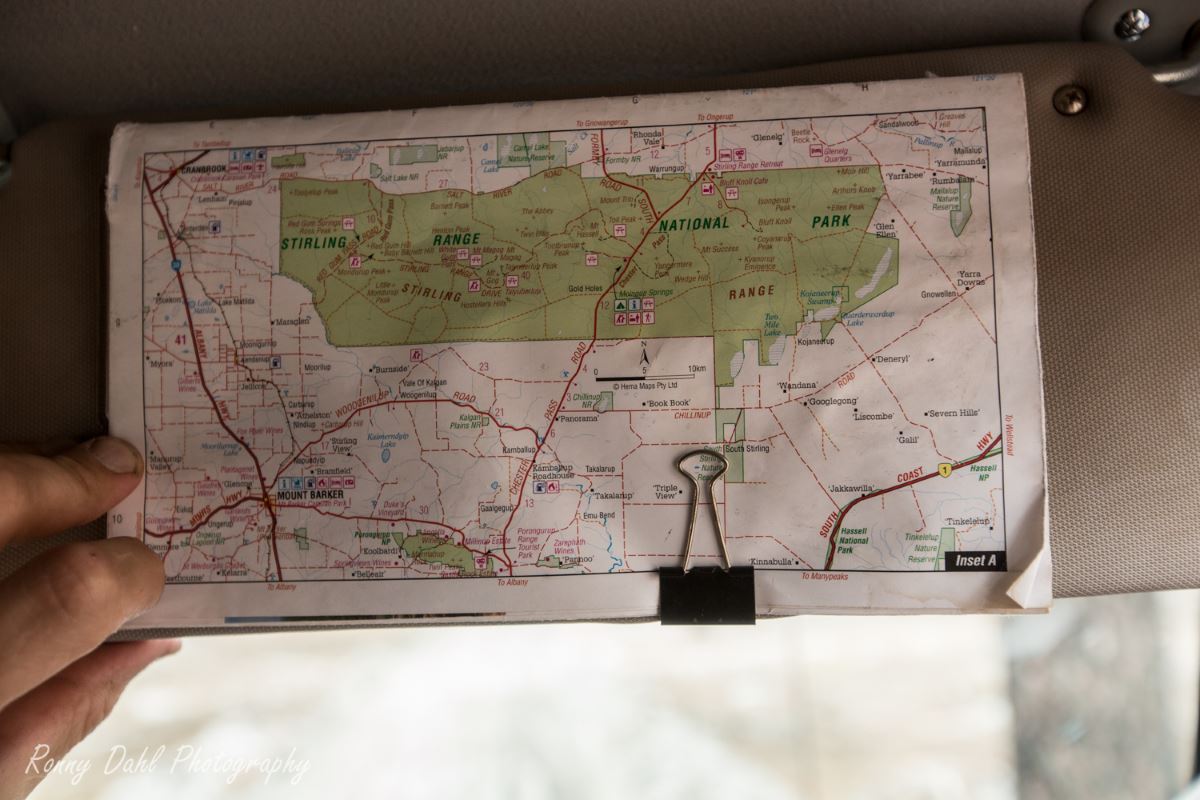 8.       Now to windows. Yes windows, try to keep them fully up or full closed as you could get some serious headaches from a side bash! Side bashes are common and bloody hurt!
Also those tight tracks with prickle bushes are not great when they fling into your eyeballs or even just your face.
See Also:Best Tools & Gadgets for  inside the Cab when Off-Roading. 
---
9.       Dimmers, most vehicle dash boards have them but not many people know about them or use them. They are great for off-road and on road use at night, it's quite surprising how much your night vision is improved by dimming the dash lights.
Also your NAV systems have dimming options as well (some are even in auto mode).
---
10.       This last in cab off road tip is often over looked. Mount your CB radio in a good reachable and adjustable spot so that you can keep your eye in front on the road/track and so you can clearly hear what is being said.
See The Video, 10 In Cab Tips For Off-Road.
I hope you found these Off Road Tips useful, put them all to good use and things will be easier and more fun out on the tracks and trails.
Cheers Ronny.
---
Jun 29, 23 08:30 PM

Well 7 of us just traveled to the Pink Lake cv/pk in Esperance. We had such a great time there, all staff were very accommodating and friendly. The camp

Aug 21, 22 04:20 AM

Hi! Welcome to offroad dad and my journey in life doing things on a budget using my hobby offroading touring camping and survival as a way to cope and

Mar 30, 22 02:53 AM

When Camping With Children kids hygiene items like wet wipes (baby wipes) are the best thing for cleaning kids, bring a few spare packets. Don't forget to..
---
Leave Off Road Tips And Go 4 Wheeling  In Western Australia.
---