Over the years I have added and removed items form the cab for easy reach. A bit like fine tuning my storage of frequent used tools along the tracks and trails.
This has taken some time to refine to an actual point where I think it's pretty well spot on (well for my needs anyway). So all the items listed below is what is within arm's reach of the driver seat.
Please note this list does not include vehicle mounted radios and GPS units, it's more of a basic but useful tool list. (see this link for Ronny's comms and GPS NAV's)
Big small tool kit in a surprising place: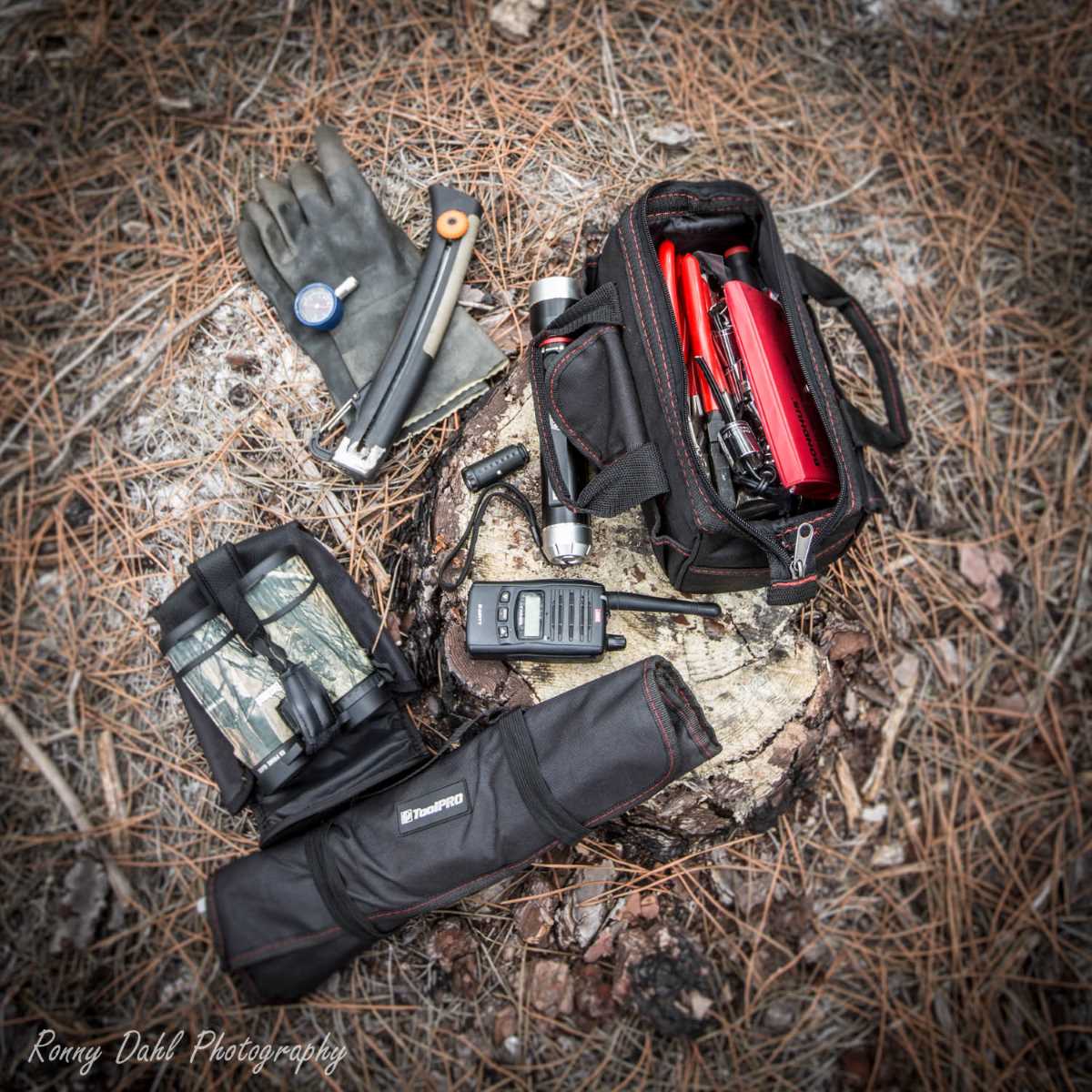 Tools And Gadgets To Have In The Cab.
Click Any Image To Enlarge Or Open Photo Album.
In my 79 series LandCruiser there is really not that much room to store items unless you look hard and think outside the box.
With its very basic build there is loads of unseen space to store items and bags and one particular spot is under the front seats. There is loads of room under there and enough room to fit a fairly comprehensive small tool bag kit (custom kit), tool roll (spanner kit), rapid tyre deflator and a tyre gauge. All this under the driver seat.
This kit can sort out most minor repairs along the tracks and trails fairly fast and comes in handy 99% of our trips.
In the back I do carry a larger tool kit but it's locked away and under everything in the rear and this is also the main reason I placed my 'comprehensive' small tool kit in the cab so I can and will fix the minor problems without having to dig and search for tools. It breaks the lazy barrier…
One more thing, I firmly believe that having good quality tools goes a long way to making the tasks easier and less stressful, also you are less likely to break a tool or round off a bolt head/nut or screw head.
Trimming tracks/trails and keeping clean while doing the dirty work:
---
In the cab I carry 2 pairs of gloves, one set for dirty work and recoveries and the other set (a rubber chemical pair of gloves) for refilling diesel into and from jerry cans. In the middle of nowhere wasting drinking water to wash your hands is not the best idea, wearing gloves will prevent this and keep your hands safe.
Along with the gloves I also carry a retractable saw (and sometimes the machete) for trimming the tracks ahead, this is one of the most important items to have when traveling the tracks less travelled as big branches ready to slam into your windscreen, snorkel, awning or anything else you have attached to your vehicle will be across the tracks ready to do damage.
---
Important Tools & Gadgets in my reversed storage organizer: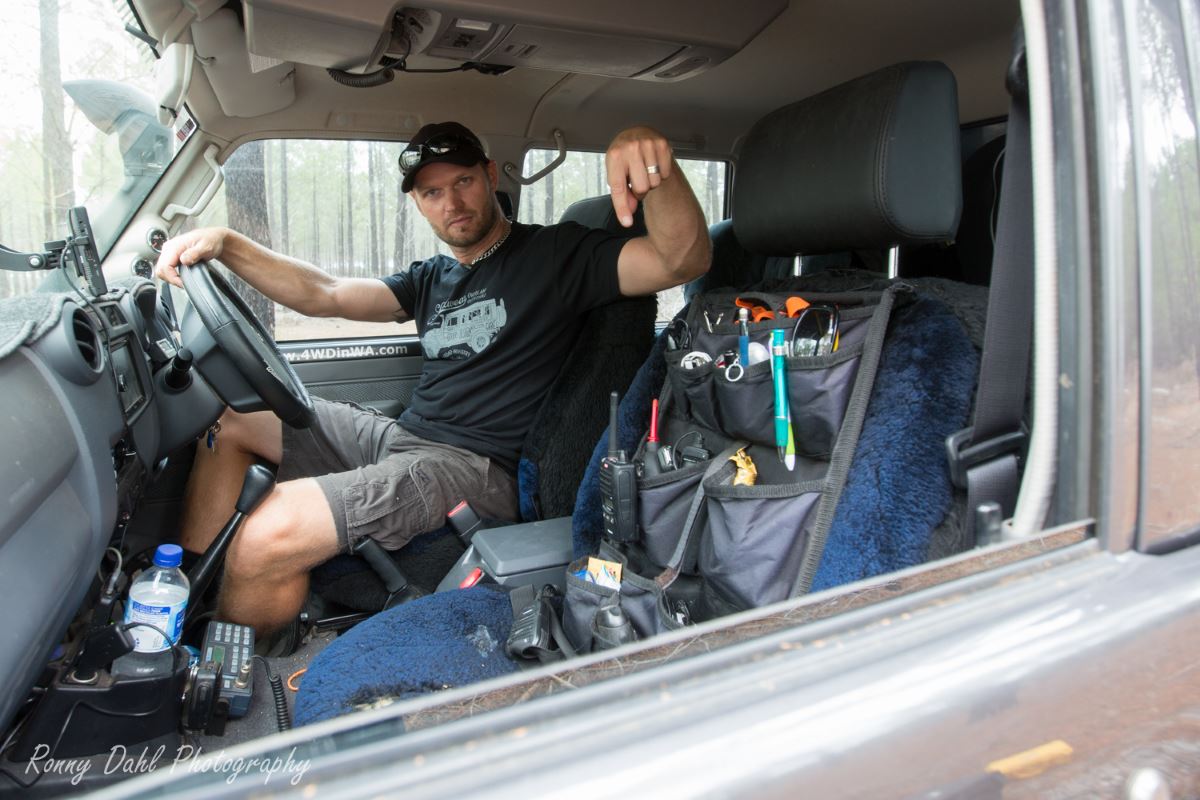 When driving at night having spot lights and bar lights is great but what if you drop something outside or inside the vehicle or hit something along the tracks (animals, logs, rock etc.)?
This is where a few touches come in handy! A small one for the vehicle for the inside/quick tasks and a big/bright one for the outside inspections and repairs. With both options I have found it to be most useful.
UHF handheld radio falls in this storage area as well, having a handheld radio makes things a lot easier when you have to get out of the vehicle and guide someone in a hurry.
---
Other Tools and Gadgets within arm's reach:
The trusty old bush hat is a must have especially if you travel Australia, no need to fry your head when you have the bush hat just there within reach!
Binoculars I consider very important for those who travel alone or often lead convoys.
When leading convoys it's important to see what's ahead on narrow beaches, rough tracks and even navigation reference points before leading the entire convoy to an impassable section of beach, dead end track or simply just the wrong way. Binoculars will come in handy in these situations.
---
Tools and Gadgets shown in the video: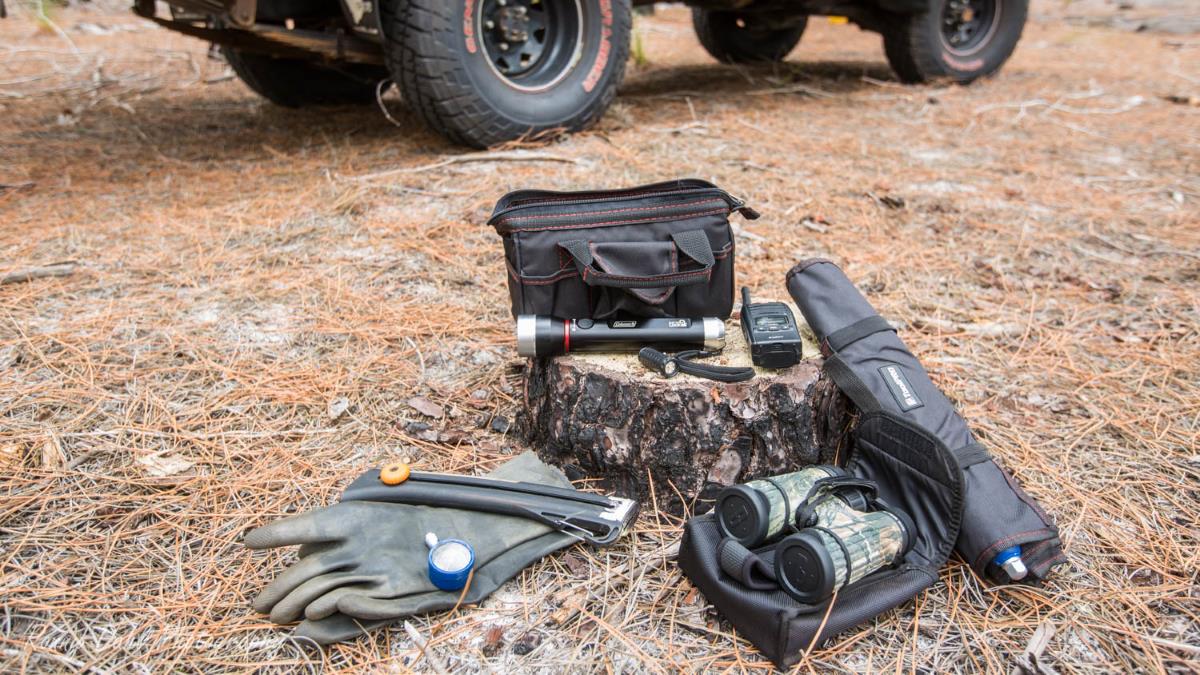 Tool kit:
Various tools mostly Knipex brand
Gear Ring Spanners and screw drivers Kincrome
Retractable and foldable saws:
Fiskars Power Tooth Blade 10"
Orange no name brand
Gloves:
Ansell Heavy Duty (Rubber gloves)
Pro Choice Gloves (cheap pair)
Touches;
DC Rechargeable Small LED light: http://www.altronics.com.au/p/x0205-rechargeable-car-accessory-led-torch/
Coleman Battery Lock Divide +700, very bright LED 700 lumen touch
Other Items:
Binoculars Bushnell Legend Ultra HD FOV340 (field of view 340ft at 1000 yards)
Handheld UHF, GME TX685 3 Watt IP67 UHF CB handheld
And a plain old bush hat
Tyre Gadgets: