4x4 Paint Protection.
Most people like their 4x4 to go hard on the tracks and look great on the street. Ronny chooses Rhinohide to keep his 4WD looking great, so let's look at your options and see why Rhinohide is his go-to 4x4 paint protection.
The 3 Main Types of Protection.
1.       Clear film. This adhesive product will maintain a factory appearance and protect against light scrub scratching.
2.       Magnetic panels. Large magnets stick to the paintwork and provide moderate scratch protection. They are not rated for highway use or summer temperatures.
3.       ABS Panels. Rhinohide Armor-Lock™ uses proprietary suspension fasteners to hold 2mm thick panels onto the vehicle. They protect against heavy scratching and dents, are rated for highway use, and are easily removed.
What is Rhinohide?
Rhinohide is a West Australian invention. After ruining paintwork in coastal scrub, the creator Marc Berryman saw how ABS moulded 4x4 paint protection panels could save heavy scratching from tree branches and even dents.
Ronny first put Rhinohide to use on the 79 series in 2019 when Rhinohide was using magnets to hold each panel in place. The only downfalls were the regular cleaning required to prevent the magnets chafing the paintwork, and it wasn't rated for highway use.
It WILL NOT fall off.
With 18kg of hold force per mount, the new system is rated for highway use. In extreme temperatures where other protection systems fail, the Armor-Lock™ system will perform from -35 to +80 degrees. Magnetic 4x4 paint protection is rated as low as +30 degrees which is a mild Aussie summer day! Only clear film paint protection will match Rhinohide for highway use and temperature performance.
How it performs in the wild.
This is where clear 4x4 paint protection film fails the test. Light scrub and foliage is no problem; but twigs can easily tear the film. The magnetic systems go a little better protecting against larger sticks and sharp scrub but won't prevent dents.
The 2mm thick Rhinohide panels are proven against larger tree branches and held away from the vehicle using suspension technology incorporated into the Armor-Lock™ mount. This prevents dents from rogue tree branches and those car door and trolley dents you pick up in the car park.
Rhinohide on the Hilux.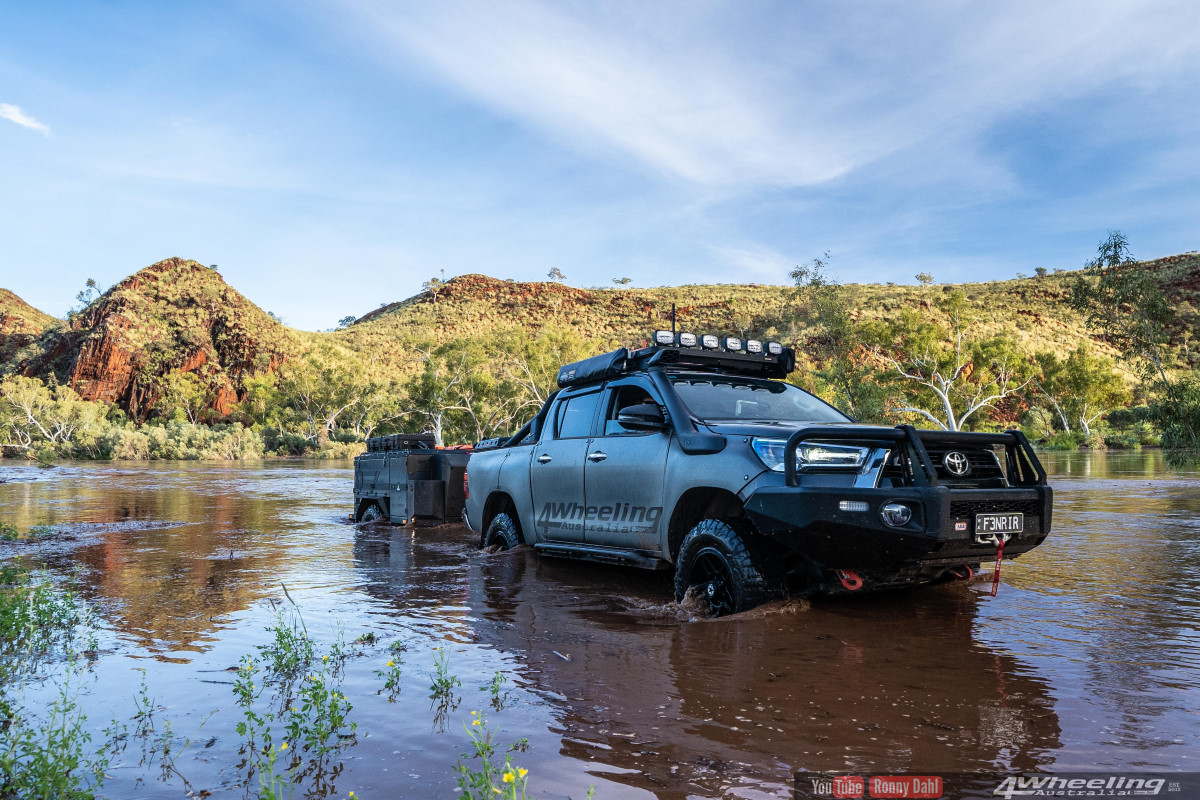 Ronny's 79 Series had a few years of tight tracks under its belt before Rhinohide came along, so it doesn't look too flash underneath. The Hilux had the brand new Rhinohide on from day one and has so far travelled thousands of kilometers on the blacktop, tackled many a river crossing, and negotiated numerous tight tracks. Underneath the Rhinohide, it's like it just left the showroom floor.


Nov 21, 23 07:40 PM

On this page we cover 4x4 off road tracks within a 250 km radius from Perth...

Nov 21, 23 07:35 PM

Jurien Bay 4x4 tracks info and general information about the area...

Oct 10, 23 09:31 PM

This caravan park is very clean. The ablutions are spotless. The washing machines are free but need to keep them clean. Easy parking for big rigs and if
---
Leave 4x4 Paint Protection And Go 4 Wheeling In Western Australia.
---