Mundaring Powerline track at night.
The Powerline Track.
Distance from Perth: 50 km east of Perth, along Great Eastern HWY.

Nearest fuel: The Lakes Roadhouse 4km from start of track, 20km from end of track (Doing the track west to east).
Size: Track length 11km
Time to allow: Start during afternoon light and allow for a 10pm-past midnight finish.
4 wheel driving the Powerline during the day is one thing, but 4 wheel driving the same Powerline at night is like 4WDing on a different planet!
Everything and I mean everything looks different in so many ways.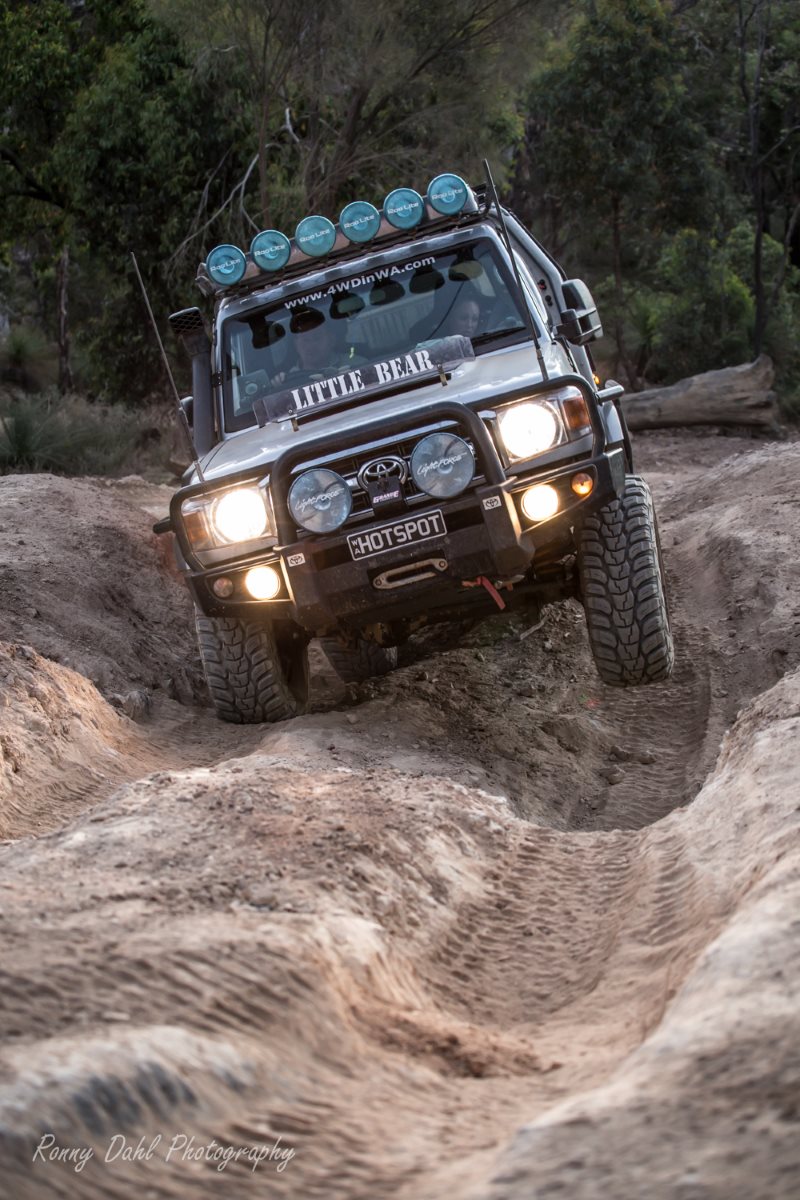 Extra lights are a must if taking on some of those tough sections and even better if these extra lights are roof height as shadows can be anything from pot holes to a vehicle swallowing hole.
Even if you know the track like the back of your hand at night it will trick your senses.
So far on the Powerline we have done 3 night runs including both directions (east to west and west to east).
Each time we have done some different sections as time really fly's at night you will soon realize that there is not enough time to try everything and each tough 4x4 section takes twice as long in the dark.

On your night drive visit, allow for a food stop (perhaps dinner), this will keep you going without rushing through, and doing a little cook up out there in the dark is almost as good as camping, well almost but worth it. Just don't forget the bug spray...
We start this particular night track from Flynn road as this is where most of the fun challenging areas start.
From the intersection of Flynn road and Nganguring Road (AKA Powerline Track) head east and the action starts at the first hill climb, if following our recommendations you should be here in the afternoon sunset light shining a bright orange color on the hill ahead.
From here just enjoy the drive and explore it in the dying light – midnight at which point you would have reached Talbot road which is the exit track.
Depending on how much and challenges you decide to take on, you could actually pop out at the end a lot earlier.
---
Make use of lights available: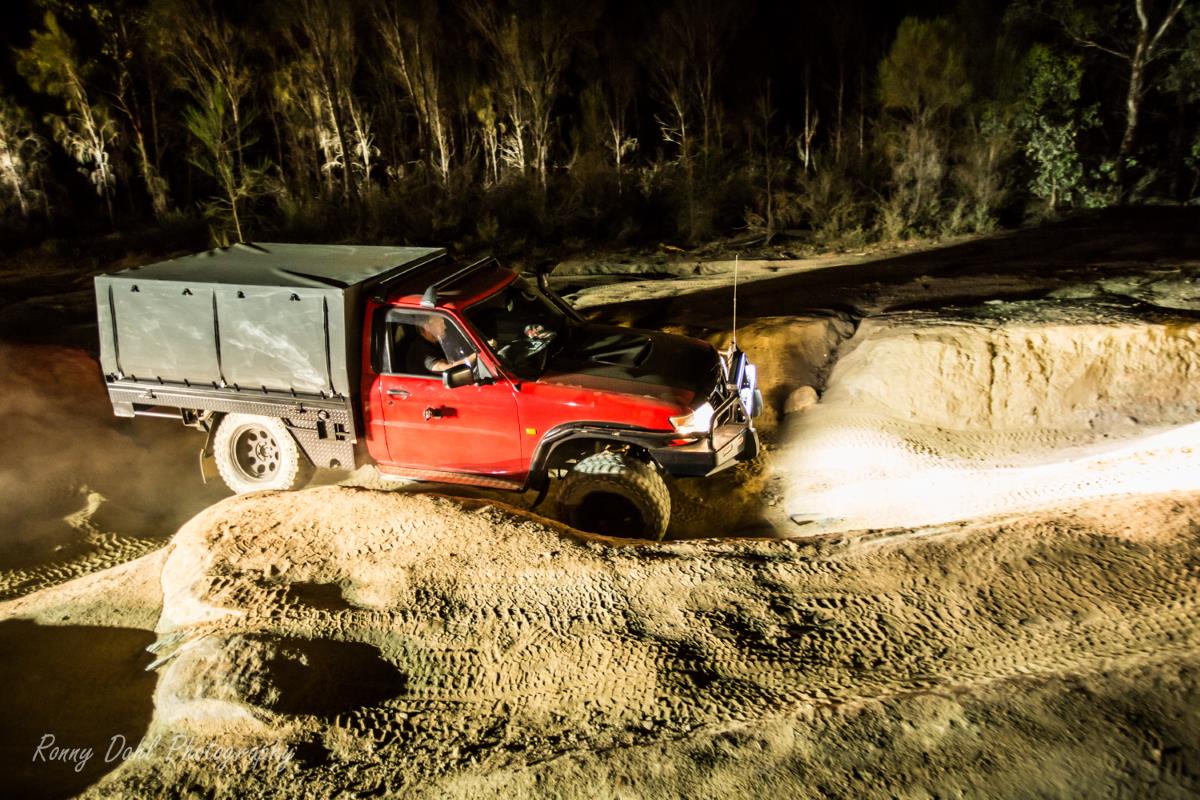 When approaching tough 4x4 sections on the track make good use of any other vehicle lights from your convoy, it doesn't take much effort to get a mate to shine his lights at a track ahead on the Powerline track as there is loads of space in most areas.
If getting out to spot a mate bring a torch, this will help you see once the vehicle has past you as your eyes will no longer be adjusted to the dark which is a very bad thing on the Powerline track when on foot as your next step may lead you to the bottom of a pit or simply face planting it on the uneven terrain.
The power of tunnel vision:
What you see when 4 wheel driving at night is only what's been illuminated buy your  vehicles lights, this creates tunnel vision which causes you to focus more about what's directly in front, the Powerline track is all about slow low range 4x4ing with plenty of sections to concentrate on. So it's a match made which is why we have been 4 wheeling this track at night more than just a few times.


---
Night time recoveries are a complete different experience.
We have found that people focus more on what they are doing, for example getting torches and checking what the vehicle is really hung up on, as there are no surrounding distractions.
People are less likely to stand inside the danger zone, as folks tend to stay within the areas lit up by vehicles (not including the vehicles doing the recovery).
More on Off-road light tips and information click here.
---
Track conditions and difficulty:
Hard to Extreme.
The track is mainly clay and rock which is rutted, steep, and can be very dangerous when wet.
If you have never been off road before DO NOT ATTEMPT THIS TRACK AT NIGHT.

You will require low range gear for the entire track.
Recommended PSI is 22 or lower, this will help you maintain grip and prevent punctures as there are jagged rocks along the track.
Mud terrain tyres are best for this track, especially if it's wet. Spotters are a must during night time.
---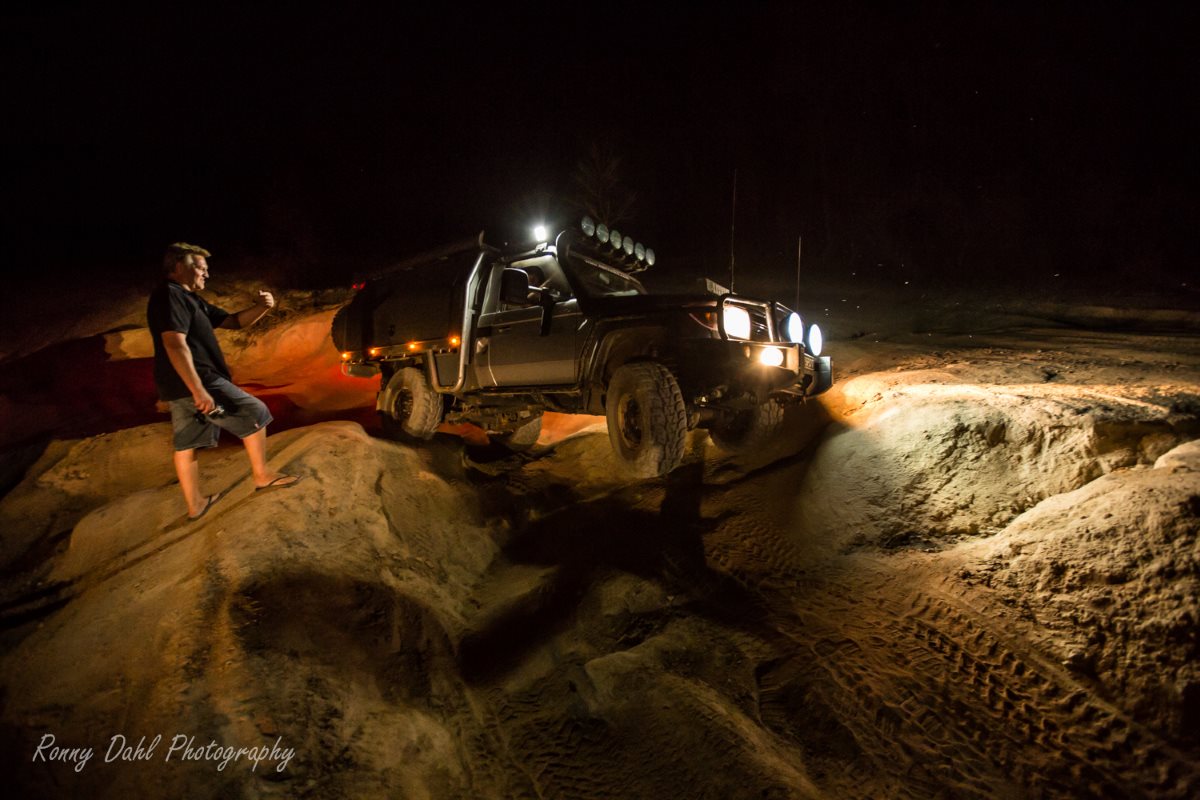 What to bring to The Powerline Track:
Air compressor, shovel, water, dinner, bug repellent, at least 2 torches, camping lamp, rated recovery gear & tools.
---
Things to do:
·         Survive and Conquer the track at night
·         Enjoy an action packed night 4wding
·         Test your 4wd to the limits
·         Test out your off-road lights
·         Experience the surreal feeling of off-roading at night


---
Best time to go.
Summer being the best time by far as winters muddy recoveries can be very dangerous at night and difficult, winter nights are very cold and windy.
Best time to go
All year round.  Keep in mind it does get very hot in summer.
GPS Waypoints:
| | |
| --- | --- |
| For information about How to enter the GPS Way-points into Google Earth see this video. | |
---
For information about How to enter the GPS Way-points into Google Earth
see this video.
---
Gorrie road entry WP1:

| | |
| --- | --- |
| Latitude:              31°52'49.44"S | Longitude:          116°16'34.96"E |
---
Gorrie road entry to the actual Power line Track:

| | |
| --- | --- |
| Latitude:              31°53'31.03"S | Longitude:          116°16'43.41"E |
---
Flynn road entry WP1:

| | |
| --- | --- |
| Latitude:              31°53'3.00"S | Longitude:          116°18'32.01"E |
---
Flynn road entry to the actual Power line Track: 

| | |
| --- | --- |
| Latitude:              31°53'31.29"S | Longitude:          116°19'30.64"E |
---
End of Power Line Track: West Talbot Rd.

| | |
| --- | --- |
| Latitude:              31°53'31.34"S | Longitude:          116°26'24.86"E |
---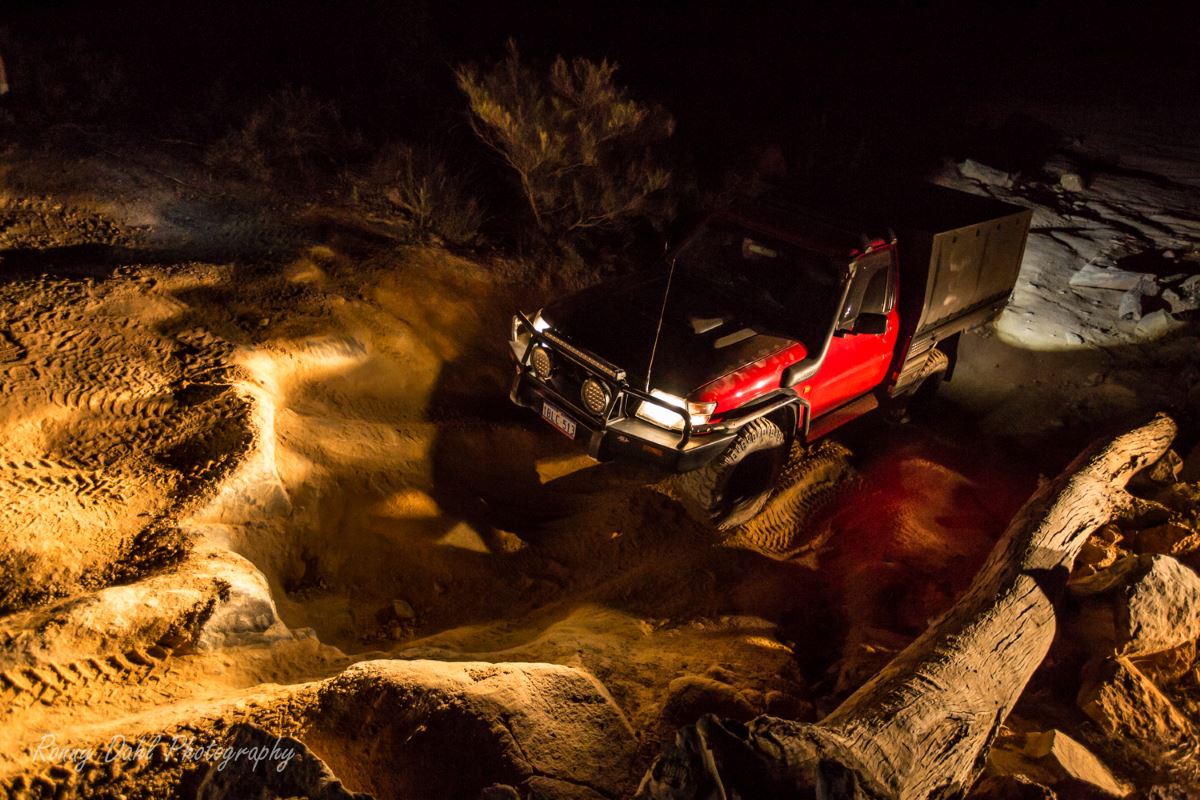 ---
Jun 29, 23 08:30 PM

Well 7 of us just traveled to the Pink Lake cv/pk in Esperance. We had such a great time there, all staff were very accommodating and friendly. The camp

Aug 21, 22 04:20 AM

Hi! Welcome to offroad dad and my journey in life doing things on a budget using my hobby offroading touring camping and survival as a way to cope and

Mar 30, 22 02:53 AM

When Camping With Children kids hygiene items like wet wipes (baby wipes) are the best thing for cleaning kids, bring a few spare packets. Don't forget to..
---
Leave The Powerline Track And Go 4 Wheeling In Western Australia.
---