Ninghan Station:
Distance from Perth to Ninghan Station: 381 km north east of Perth, along the Great Northern Highway.
Nearest fuel: North is Paynes Find 60km or South is Wubin 80km.
Size: Over 200.000 hectares.

Time to allow: can be done as an overnighter but 2+ days would be best as there is about a week's worth if not more of exploring to do.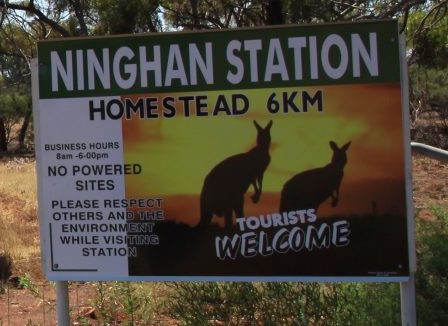 Welcome sign at Station.

---
Ninghan station is the closest outback adventure to Perth.
The landscape is out of this world if you have never been outback before, you really feel remote yet only 400km from Perth.
Ninghan is an old working station, but now mainly herd goats and about 400 sheep from memory. There are so many things to see in this huge area. As you travel around the property there are numerous old wells, some still working and others are interesting ruins along with machinery and other structures.
The landscape is unreal with huge rock formations (some that look like waves), Lake Moore a massive salt lake, constant changing terrain and a big hill climb to the top of Mount Singleton.


---
Ninghan Homestead.
Before venturing into Ninghan station visitors must contact the station prior to visiting, when visiting you must head to the homestead and meet one of the Bell family.
Don Bell is the owner but wasn't there when we visited however we were greeted by his son who was very helpful in giving directions valuable track information. They had a big map of the property which he was more than happy to guide us through.
Ninghan station itself can accommodate visitors at the station/homestead, they provide showers, running water and power. We did not stay at the homestead but for travelers not willing to go without showers or power you can always setup base camp at the homestead.
---
Things to do at Ninghan Station.
Explore the Australian outback
Climb Mount Singleton
Camping
Climb Warrdaggar Hill and other rock formations
Photography
See the Wild Flowers in spring
---
Mount Singleton.
Mount Singleton's peak sits at almost 700m above sea level, so the views at the top are spectacular. On the drive up there are multiple places to stop and have a look out at the horizon as you get closer and closer to the peak.

Once you get to the Telstra phone tower you have reached the top. You can then park your 4WD and venture by foot to the edges of Mount Singelton and soak up the great views and take some photos. You can easily spend over 2 hours just looking around.
---
Warrdaggar Hill.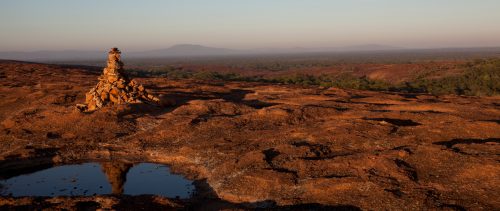 Scenic view, from Warrdaggar Hill.

Warrdaggar Hill is a massive granite rock formation that curves around a camp site (Warrdaggar camp site) and provides a great wind block.
At the top of Warrdaggar hill you will get some great views of the horizon and later in the day, the sunset and sunrise the next morning. There is also a man made statue at the top constructed from loose stones.
This camp site is by far the best camp site I have ever camped at, it gives you that feeling of remoteness and has great scenery, there is a fire pit, but you must bring your own fire wood.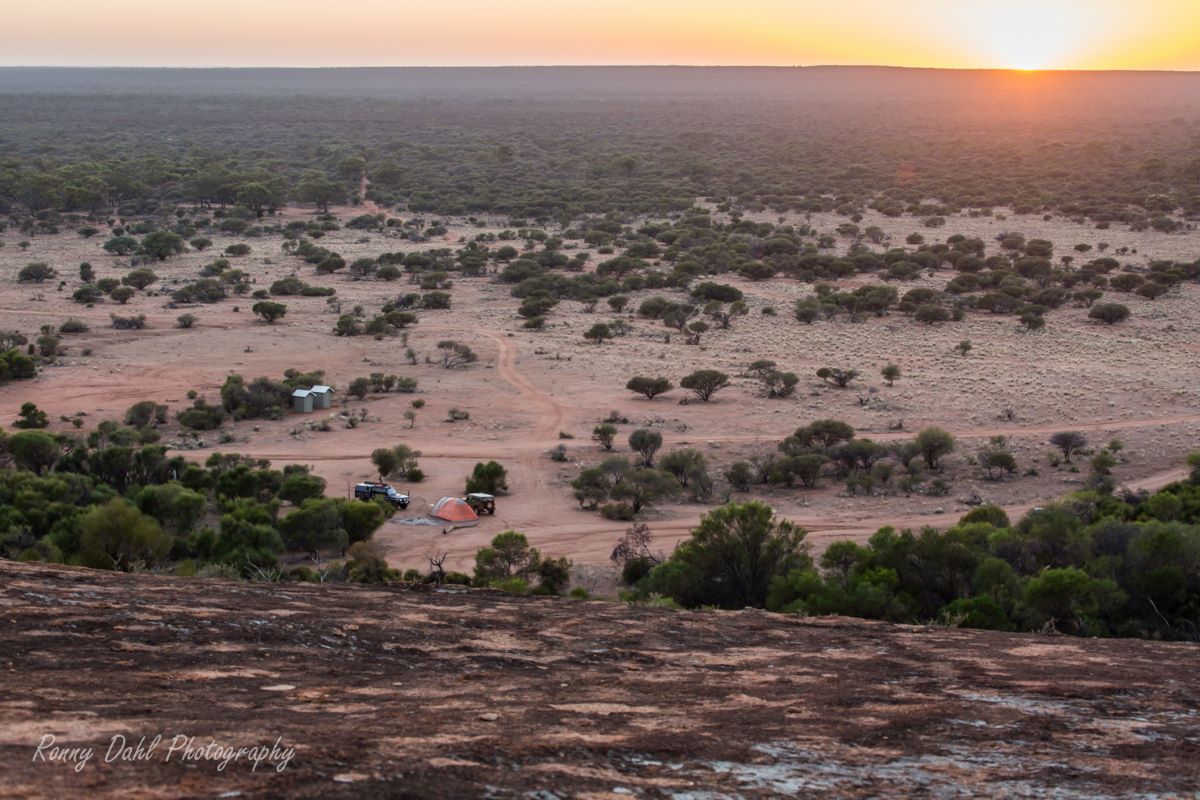 Campsite.

---
Other Granite rock formations.
Another rock formation located near the center (north of Lake Moore) of the station can be driven up onto, another area well worth exploring.
Just a little bit further south is a rock formation that looks like a wave (a small version of wave rock near Hyden).
This area requires you to park your 4WD and go for a short walk through the bush towards the big rock formations. Just make sure you remember which direction you left your 4WDs at.
Yet again you will have spectacular views at the top.



Wave Rock at Ninghan.

---
Lake Moore (Salt Lake).
Lake Moore salt lake.

The salt lake is huge and stretches off in the distance.
Be very careful here as salt lakes can be very deceptively wet and sticky underneath that dry crusty earth.

We made the mistake of assuming it was dry and started driving through it until.... I lost traction and just sunk to the sils, one by one my mates followed not knowing and the three of our vehicles were severely bogged. Lucky two of us have winch each and we all got out within 3 hours of a marathon recovery.

This could have been a real nightmare if we had have gotten further out.

I have driven on salt lakes before but never got caught out like that, however I now know the difference between deceptive boggy salt lake and a real dry one. If unsure let one person test the ground first and never assume the conditions are same all over as the edge could be dry and the middle could be a hidden trap.



---
Track conditions and difficulty.
Jagged sharp rocks are a big part of many tracks out there, other tracks are clay and hard packed red sand.

The climb to Mount Singleton is on harsh jagged rocks and steep in some points (medium to hard), apart from that the rest of Ninghan is easy to medium.
Please keep in mind that some of the tracks have not been driven for years, we came across a few, one track in particular which all the sudden disappeared due to years of weather damage/corrosion and had to navigate solely by fence lines, maps and GPS Lucky for us we knew where we were due to careful planning and good team work.

Take good care on Lake Moore as you could easily get bogged to the chassis.
What to bring.
Air compressor, sunscreen, bush hat, plenty of water & food, shovel, rated recovery gear, CB radio tools, all your camping gear.
This is the outback country and you will more than likely see no one else out there during your visit, so make sure between yourself and your travel companions that you are all self sufficient.
---
Best time to go.
Late Match to late November is the best time.
December to early Match you could expect a swam of flies and scorching heat.



GPS way points

:
| | |
| --- | --- |
| For information about How to enter the GPS Way-points into Google Earth see this video. | |
---
For information about How to enter the GPS Way-points into Google Earth
see this video.
---
Great Northern Highway x Ninghan Station entry:

Latitude:

29°23'5.86"S


Longitude:

117°14'47.04"E

---
Ninghan Station Homestead:

Latitude:

29°25'26.74"S


Longitude:

117°17'26.08"E

---
Mount Singelton Peak:

Latitude:

29°28'0.07"S


Longitude:

117°17'58.24"E

---
Warrdaggar hill camp site:

Latitude:

29°23'17.26"S


Longitude:

117°30'19.43"E

---
Visitors must contact Ninghan station prior to travelling.

Contact details: Mr Bell

Phone: (08) 9963 6517

Fax: (08) 9963 6517
---
Nov 21, 23 07:40 PM

On this page we cover 4x4 off road tracks within a 250 km radius from Perth...

Nov 21, 23 07:35 PM

Jurien Bay 4x4 tracks info and general information about the area...

Oct 10, 23 09:31 PM

This caravan park is very clean. The ablutions are spotless. The washing machines are free but need to keep them clean. Easy parking for big rigs and if
---
Leave Ninghan Station And Go To 4-Wheeling-in-Western-Australia.

---