National Park Camping.
National park Camping & State Forest /General Bush Camping
Camping in the Australian bush:
Camping in the bush or a forest is something most of us 4WDers love to do. Being surrounded by bush or trees is far better than houses, highways and cars.
There are so many camp grounds in Australia; they range from shacks, land clearings, big camp ground and small private spots.
Most National park camping places are first in first serve and others you are able to book.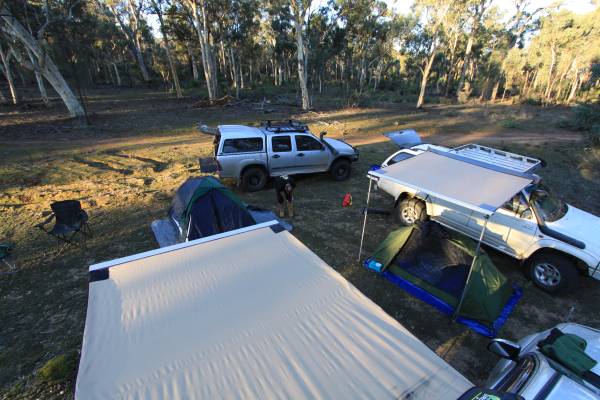 Camping In The Bush.
Weather and National park Camping:
In the middle of a forest the winds are very weak compared to an open field of the beach, so in summer it can get very hot.
Packing extra water in the summer months is a must; don't forget summer is also bush fire season so no camp fire is permitted.
In winter heavy downpours could occur, for these reasons always setup your camp on higher ground where possible, water will pool at the lowest level.
If a storm has recently past or is passing through, avoid camping under trees, as big branches could fall and crush an unlucky 4x4 camper.



Wildlife and Insects:
When setting up camp have a good look around before deciding where to place your shelter.
In the bush there are more bull ants than anywhere else, getting woken by a bull-ant army in the middle of the night is not something you want to try, and they bite pretty hard. Clearing the area of dead wood and other debris before setting up will reveal any other insects.
Also try not to place tents against bushes; this will drastically reduce the risk of ticks.
There are some many creatures in the bush but there are only a few to look out for: Snakes, Bull-ants, ticks, match flies and mosquitoes.
Snakes will rarely be seen as they usually hide from humans and will only attack if threatened or stepped on. Keeping the camp site clean from food scraps will keep rodents away and if no rodents in the camp then there is no reason for snakes to come near.
Bull ants, ticks, match flies and mosquitoes are easily avoided or repelled with tropical strength repellent.
There is nothing really to worry about; if the bush was that dangerous then rarely anyone would go into it. Just be aware when setting up camp, once setup kick back and relax.
At night in smaller more private camp areas it's quite common to see red dots while shinning a touch into the trees or across the ground, it's the foxes, rabbits, kangaroos and birds checking you out under the cover of darkness. It's the only time they feel safe to check you out.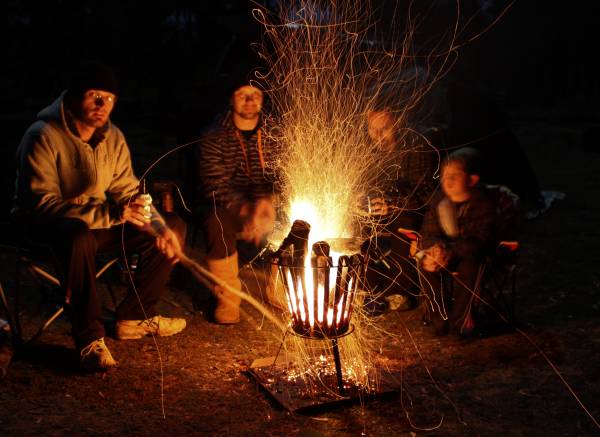 A Log Fire At Night In The Bush.
National park Camping & General Bush camping.
What to do and what not to do:
Never dispose of food near the camp; it will attract all kinds of inserts and animals to the camping area.
Never leave camp with a fire still burning.
Always bring back what you brought in, don't leave rubbish behind.
When nature calls always bury your waste at least 300 mm and cover well.
Best types of National Park- & bush camping methods:
Tents (great anywhere)
Swags (great anywhere)
Roof top camper (ideal anywhere)
4x4 camper trailer (ideal on larger camp grounds)
Caravan (limited access to some areas)
---
Oct 21, 21 12:00 AM

Historic Tracks in Australia by 4WD, is Gibb River Road, Canning Stock Route or other historic tracks on your bucket list...

Oct 07, 21 02:41 AM

Relying on a hand brake is very dangerous and can end with disastrous consequences! I turned my left and saw my LandCruiser heading straight for the steep 40m sand dune descent…

Oct 01, 21 01:09 AM

This red and black GU Patrol not only looks awesome, the engine upgrades are quite impressive and keep in mind ...
---
Leave National Park Camping And Go 4 Wheeling In Western Australia.
---