Karma Chalets.


Review
If you are looking for a romantic getaway in the Denmark area, Karma Chalets could be just what you are looking for.
(Denmark is located on the south west coast of Western Australia about 420 km from Perth.)
The chalets are situated only 5 km west of Denmark, on a hillside under a canopy of eucalyptus.
The 10 chalets have Stunning views towards the south and south east which will give you the opportunity to experience some amazing sunrises in the morning and get in touch with nature, feeding the parrots in the morning and afternoon and watching the kangaroos at sunset from your balcony while cooking your dinner on the BBQ and enjoying a glass of wine from one of the many wineries surrounding the Karma Chalets.

The View From The Balcony.
There are 4 different chalet layouts which accommodate 2 to 6 adults and most chalets have spa bathrooms.
All the chalets are well fitted out with reverse cycle air conditioner, wood fire, fully equipped kitchen, washing machine, BBQ, TV, CD and DVD player and all lined provided.
When we arrived all rooms were well cleaned and the beds done up to perfection and the management was very helpful on arrival and during our stay.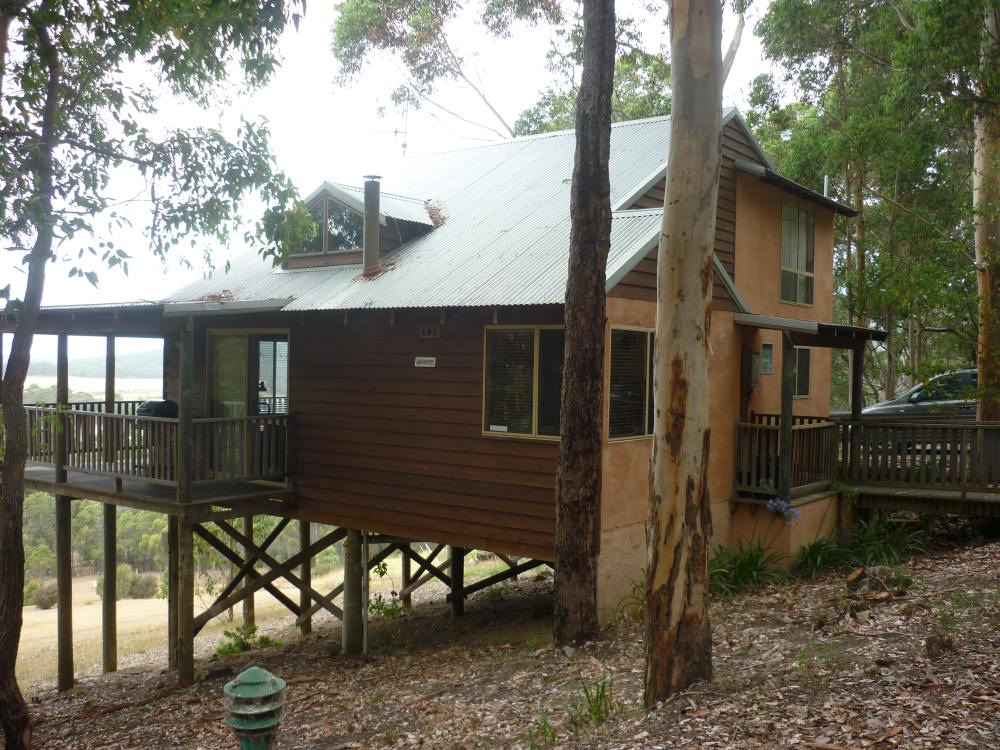 The Fortunate.
We stayed at The Fortunate which had a bedroom with a queen size bed on the ground floor and a bedroom on the upper floor with a king size or 2 single beds plus a mezzanine on the loft level with 2 single beds.
On the ground floor you will find the toilet and a nice big bathroom with a spa bath for 2 people, shower, washing machine and hair dryer.
The Kitchen.
The kitchen is well laid out with stove, oven, micro oven, fridge, freezer and dining table, and all you need in utilities.
The Lounge Room.
The lounge room is cosy and well equipped with furniture, reverse cycle air con, wood fire and a stunning view; actually there is a stunning view from all the windows in the chalet.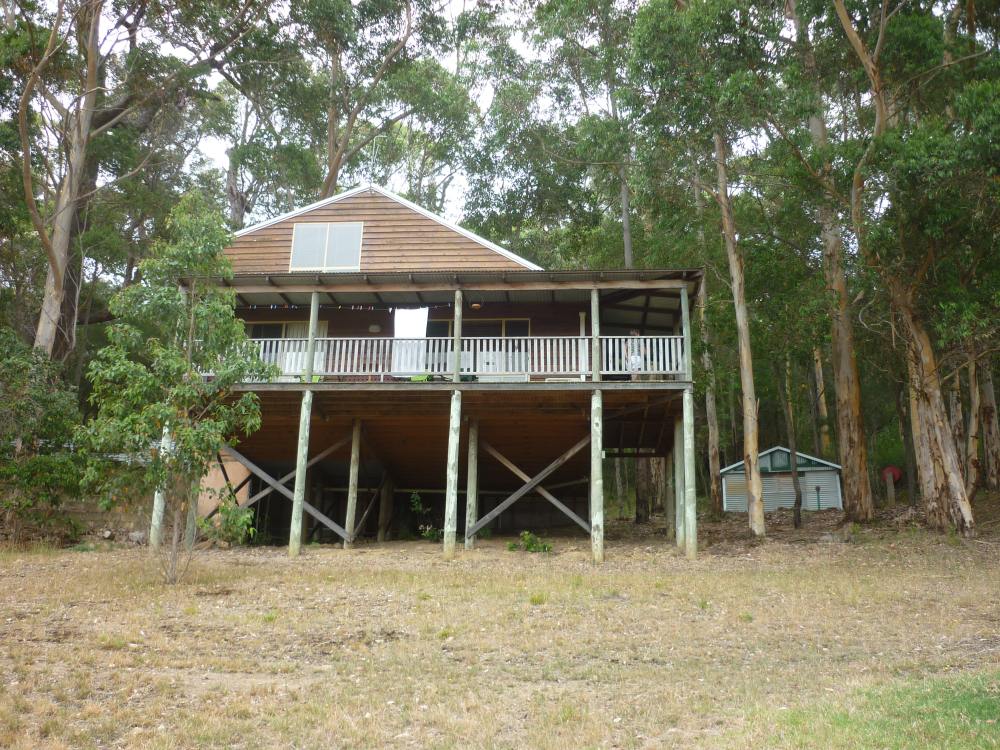 To Enlarge Click On A Photo.
From the lounge room there is a doorway out to the balcony which sort of wraps around the chalet. On the balcony you can enjoy a spectacular view, feed the parrots and watch the kangaroos at dusk and dawn. There is parking for 2 cars just next to the chalet which makes it easy if you have been out doing some shopping.
There is so much to do and see in the Denmark area, you will find very nice beaches, great locations for fishing, surfing and 4 wheel driving and of course there are all the wineries and cafes in the area to visit as well.
For information about availability, pricing and bookings see Karma Chalets.
---
Leave Karma Chalets And Go 4 Wheeling In Western Australia.
For More Information About This Area See Peaceful Bay And Denmark
---
Jan 15, 21 02:39 AM

Adding a fibreglass or steel car canopy to a single cab, extra cab or dual cab Ute will increase storage space immensely...

Jan 15, 21 02:32 AM

Exercise and fresh air is very good for kids. Combine camping with kids and it gets even better.

Jan 15, 21 02:22 AM

When Camping With Children kids hygiene items like wet wipes (baby wipes) are the best thing for cleaning kids, bring a few spare packets. Don't forget to..