The Holland Track:
Distance from Perth: Perth to Hyden 360km.
Nearest Fuel: Hyden.
Track Length: Hyden to Coolgardie via Holland track is about 260km.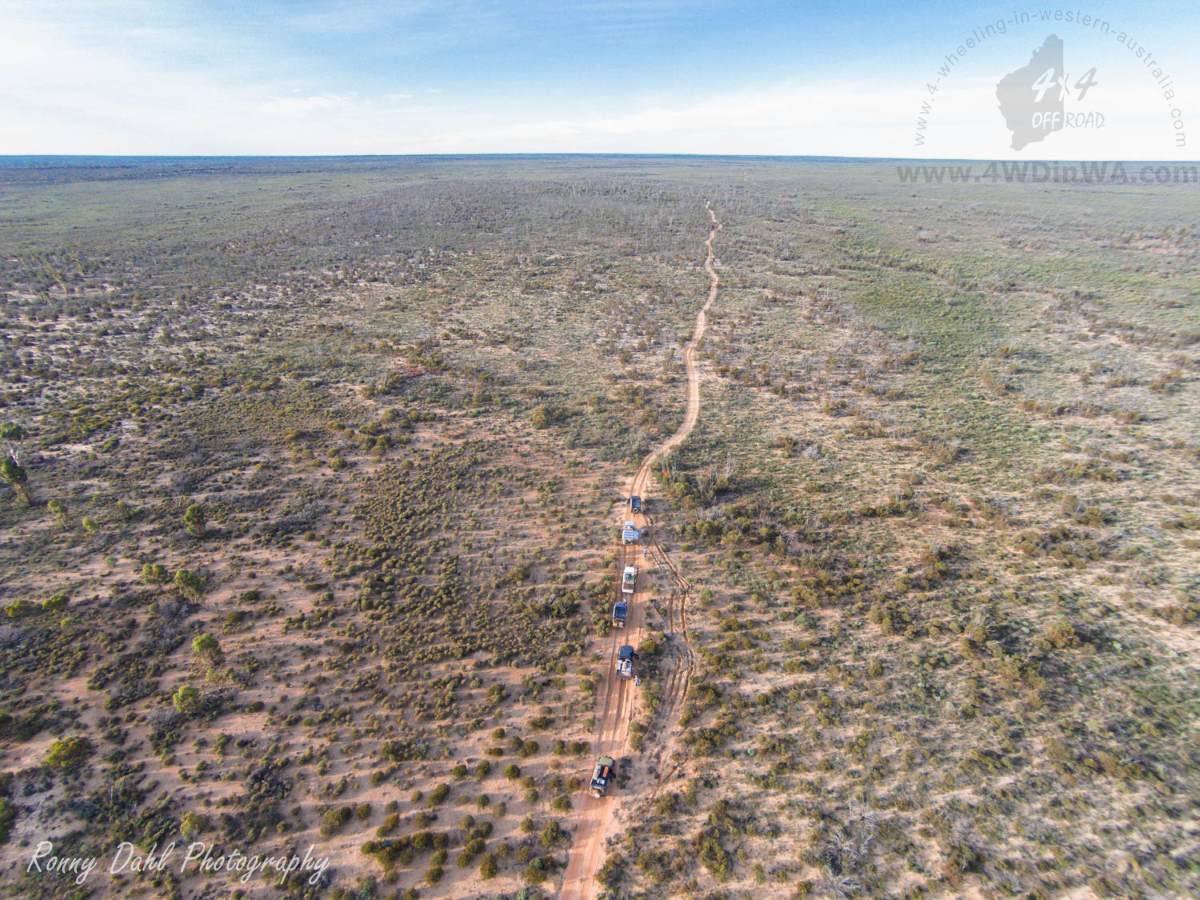 Click any image to enlarge or open Photo Album.
The Holland track and beyond: 
The Holland track is one of those bucket list tracks if you are local to Western Australia.
The track was first cut in the old gold rush days back in 1893 after Gold was found at Fly Flat near Coolgardie.
A 37 year old John Holland took on the challenge to cut a direct 500km route from Broome hill to Gnarlbine Rock south of Coolgardie. 

A few had tried to accomplish cutting a direct route before Holland but failed.
John Holland and his small crew including Rudolph Krakouer, Davaid Krakouer & John Carmody, managed to cut the entire track in just 65 days, this was done with no fossil fueled machinery and no GPS systems or aerial mapping either.
Keep in mind there were no combustion vehicles around in the 1890's, transport was by horse and wagon or on foot.
Holland and his crew where the first none indigenous people to travel through this bushland and cut their way through.
This is something that really hits home while you are out there, making the trip what it is. Without its history it's just a long track though the bush so if you are not really interested in Australian history this track may not be for you...
---
Now the title is Holland track and beyond, the beyond part is the Woodlines track and other awesome points of interest including great campsites.
We really enjoyed the Holland track but the Woodlines track was our highlight of this entire trip.

The track is well signed the entire way, which makes it very hard to get lost, way points below will only list campsites and points of interest (the important parts).


We started our 4 day journey 50km east from Hyden which is where the actual 4wd section starts from (Note* Broome hill to Hyden is the southern half of the Holland track which is all two wheel drive and can be done in one day).
We started from the track entrance by about 9:30-10:00 in the morning and headed north towards Coolgardie.
The entrance is clearly signed and has an area to air down, also there is a little bit of history about John Holland and the track on the information board.

---
Take your time: 
A lot of planning and research went into this trip and yet we over estimated how long the track can take (the Holland track), mind you we had more than a handful of vehicle problems.
We did the Hyden to Coolgardie in just two days arriving at Coolgardie during dusk, we recommend taking the extra day to take it all in and to avoid driving at night so you are at camp in day light.


Once you get going, it's not long until you will come past the first set of bog holes/mud trenches which all have chicken tracks around them.
Now most of us like a bit of mud and with the Holland track being a very slow 25-40 kph track you will more than likely go for a dip in the mud one way or another just for something different (if there is any water in them).
Just keep in mind that if it has rained quite a bit a week before those shallow looking holes can in fact be deceptively deep and not just deep, in some cases roof top deep! Take care!


Another warning, if it was wet a few weeks before most mud trenches will be dry but the ones with water in them will contain very sticky sludge. The kind of sludge that clogs alternators, radiators, starter motors and gets into everything, so keep this in mind before entering those holes as 5 sec of fun can cause vehicle troubles in the middle of nowhere!
By the way, this track is closed when it's had a lot of rain, which you will understand why, after experiencing the Holland track. Respect and obey signs!
Think Before You Get Muddy,
Our Vehicle Problems During The May 2015 Trip:
We had 3 Alternator issues in two of the 70 series Landcruisers and a Hilux, we managed to fix the Hilux and my Dual cab cruiser at camp in the dark! Torben's (AKA Little Bear) cruiser was not so lucky and was limping the entire trip requiring battery swaps and charges along the way.
The Hilux had an overheating problem due to mud filling the radiator grill that we managed to fix in Coolgardie.
The Jeep's starter motor failed and the Jeep is an auto… 120km of towing over rough terrain.
Mud, is it worth the trouble out in the middle of nowhere?


Rocky outcrops, a vital life support: 
Along the Holland track you will pass many rocky outcrops, which served as a precious water catchment areas for Holland's crew and the travellers, using the track not to mention the wildlife and the indigenous people as well.
John Holland would ride out more than a 25 km distance ahead of his crew cutting the track to find new areas with signs of water just like these rocky outcrops to keep the crew hydrated.

The water would flow into the lower sections of the rocky outcrops and pool in rock holes, some of which have been covered by man to help prevent animals and dropping from falling causing water contamination. These holes are also known as 'Gnamma holes'.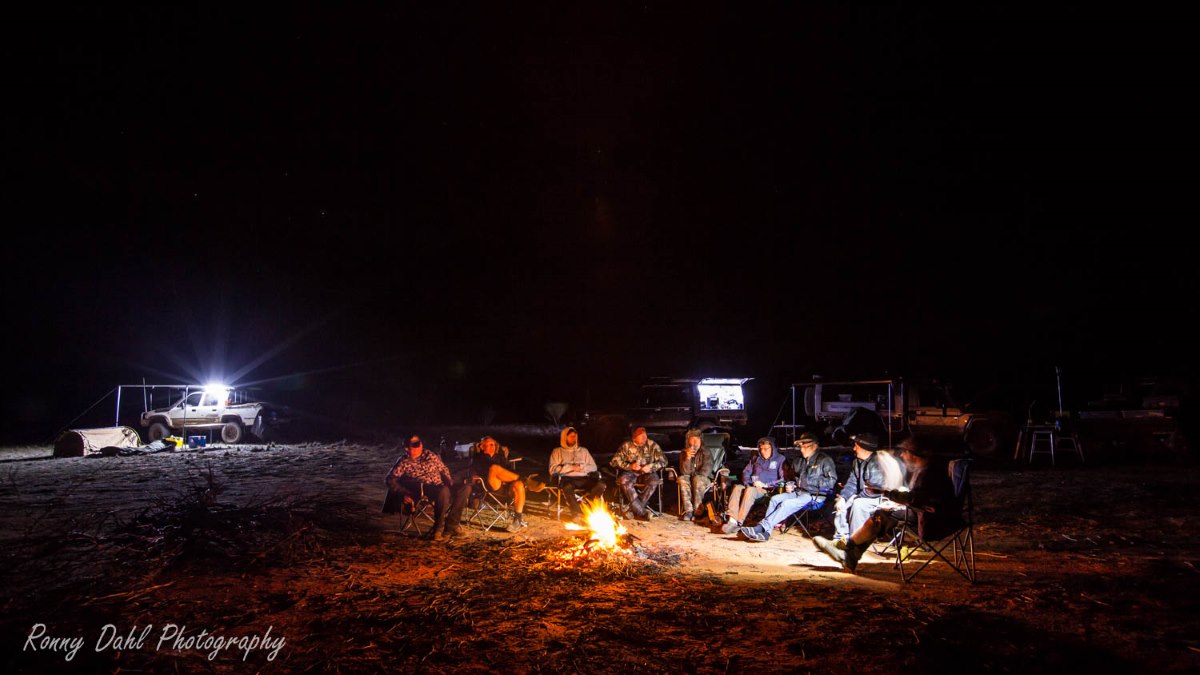 There are plenty of campsites along the track, at least one good-sized camp every 50km, which is great as you can chop and change your plans if day light starts to disappear.
If you are having a campfire please respect and know the fire ban season and if allowed use existing fire pits as there are plenty there already (no need to create more).

List of campsites along the Holland: 
Sandalwood Rocks (the sandalwood trees are long gone, they are said to be cut down not long after Holland discovered them).
Cat camp (this may in fact be Blazing Tree Camp but either way it's not a bad spot to setup for the night as it's on a raise about 200 meters away from the track offering 360 views.
However if it is windy you might want to make a good wind break with the vehicles.
Unknown Camps (there are many other campsites along the way which to our knowledge don't actually have a name, you will see them as you drive past, they are very obvious)
Thursday rock (the end of the newly recut Holland track, the old actual track continues north from here but is fenced off).
Victoria Rock (between the end of the Holland and Coolgardie, it has long drop toilets).
The centenary maker: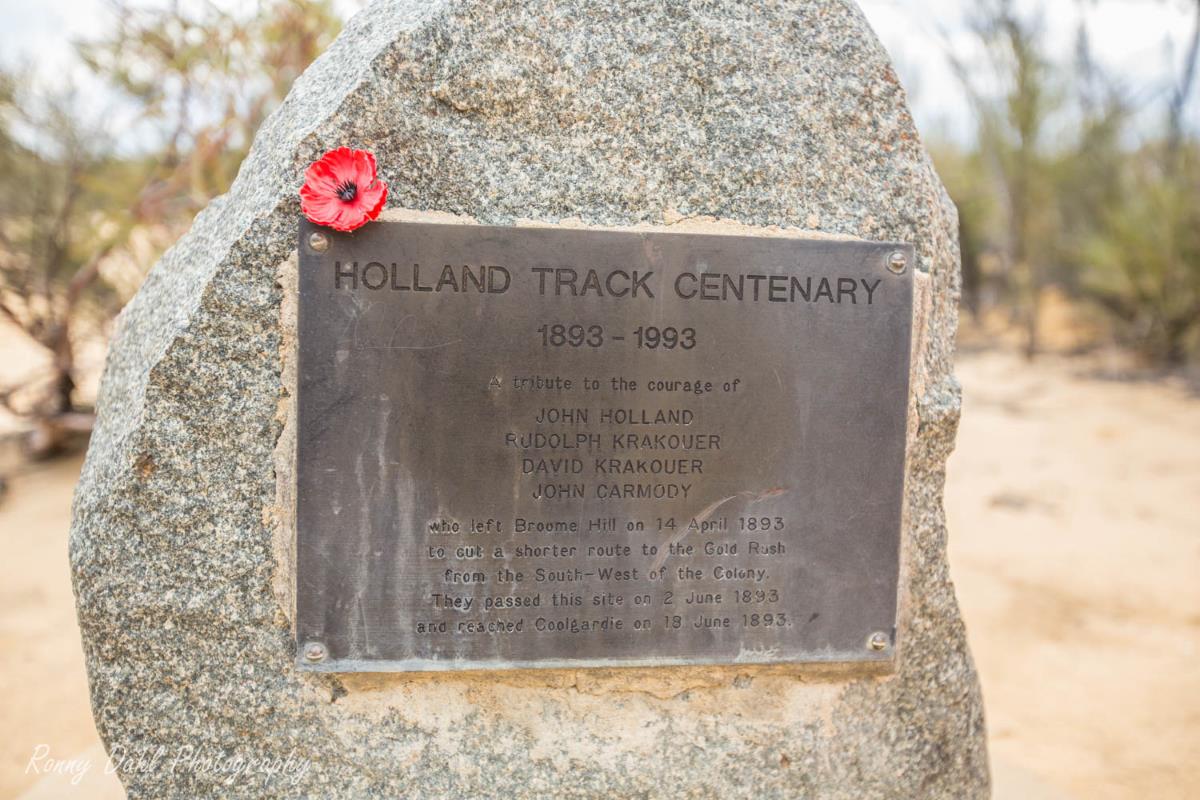 About half way along the track you will come across the centenary tribute of the Holland track, here there is a signing book and plenty of strange and interesting items left in and around the survival box. A bit like an interesting collection of rubbish, which unlikely may be useful to someone in need.
The centenary of the Holland track was in 1993, exactly 100 years since the track was cut the first time.
A modern day crew of 4wd enthusiasts retraced/rediscovered the track and reopened it for you, me and any 4wd enthusiast keen to experience & respect the Holland track.

Video From The Track.
---
General track conditions & difficulty: 
Easy to Medium (depending on the weather)
Dirt, gravel, sand, rock, clay and mud is all on this track, not recommended for vehicles with stock suspension and tyres as clearance is required even if taking the easy lines/chicken tracks, also tree roots and dead wood from bushfires can cause easy punctures to weak tyres (sand and road tyres not recommended).
Expect slow speeds, which will make tyre, pressure an easy choice of around the 20 psi mark. Take care in the wet if you are caught out by the weather, some sections of track will have zero traction at speed.
Ohh and keep a good distance in the dry heat as it will get very dusty!
What to expect along the track?
The Holland track is a winding trail with a constant North east heading through the bush along flat plains as far as the eye can see.
Every so often, you will enter gumtree sections followed by low rising bush plains with rocky outcrops scattered around.
You will get a good sense of remoteness unless you are there in the busy season as passer-by's there will be plenty of.
Our visit during May 2015 we passed 0 vehicles the first day and over 25 vehicles the second day!
Wildlife sightings will depend on rain and time of year, if in the hot and dry months expect to see plenty of wildlife around the water holes of the rocky outcrops, as that is the only source of water available. However, during the wetter months you will be lucky to see anything apart from a handful of birds.
Toyota Landcruiser Club:
A big thanks and shout out to the Toyota Landcruiser Club of W.A. as they maintain the track and do regular clean-ups after the messy minorities have been through.


---

Beyond the Holland track:
Once the Holland track has been crossed off your list don't just head for home, head for the Woodline track!
This track is far less travelled compared to the Holland and is truly a beautiful and interesting area! 

Things to do:
Relive history and explore the Holland track
Experience Remoteness (best done on a weekday)
Outback camping
Best time to go:
Late March to Middle of June.
Or
Late August to November.
Too hot in summer, track closures during winter.
Places to stay:
See above list of Campsites, apart from that there is accommodation in Hyden and at Coolgardie as well.
Holland GPS waypoints:


Access via Hyden to Norseman road:
| | |
| --- | --- |
| For information about How to enter the GPS Way-points into Google Earth see this video. | |
---
For information about How to enter the GPS Way-points into Google Earth
see this video.
---
Start:

Latitude:   32°24'49.94"S

Longitude:   119°27'35.26"E

---
Sheoak Rock (rocky outcrop 1st point of interest):

Latitude:   32°19'23.28"S

Longitude:   119°31'40.73"E

---
Wattle Rocks:

Latitude:   32°15'45.72"S

Longitude:   119°35'1.14"E

---
Mt Holland Camp (Camp area):

Latitude:    32°10'7.23"S

Longitude:    119°44'0.18"E

---
Deep Red mud trench (take on the trench or use the narrow chicken track around it):

Latitude:   32° 9'40.92"S

Longitude:   119°47'52.56"E

---
Sandalwood camp turn off (turn left heading southeast):

Latitude:   32° 1'13.18"S

Longitude:   119°57'5.07"E

---
Sandalwood Rocks (Camp area):

Latitude:   32° 1'41.25"S

Longitude:   119°57'20.20"E

---
Holland track X Mount Day road (Centenary of Holland track plaque & sign in book):

Latitude:   31°55'58.62"S

Longitude:   120° 6'17.31"E

---
Cat Camp:

Latitude:   31°49'16.13"S

Longitude:   120°17'1.00"E

---
Krakouer Rock:

Latitude:   31°42'20.22"S

Longitude:   120°24'57.32"E

---
Agnes Gnamma Hole:

Latitude:   31°37'36.97"S

Longitude:   120°31'59.03"E

---
Thursday Rock Entrance (dead end):

Latitude:   31°32'36.93"S

Longitude:   120°37'9.77"E

---
Thursday Rock (Camp area):

Latitude:   31°31'59.52"S

Longitude:   120°38'3.17"E

---
Victoria Rock Road (turn left heading north east towards Victoria Rock (campsite) & Coolgardie :
Latitude:   31°32'47.57"S

Longitude:   120°46'20.72"E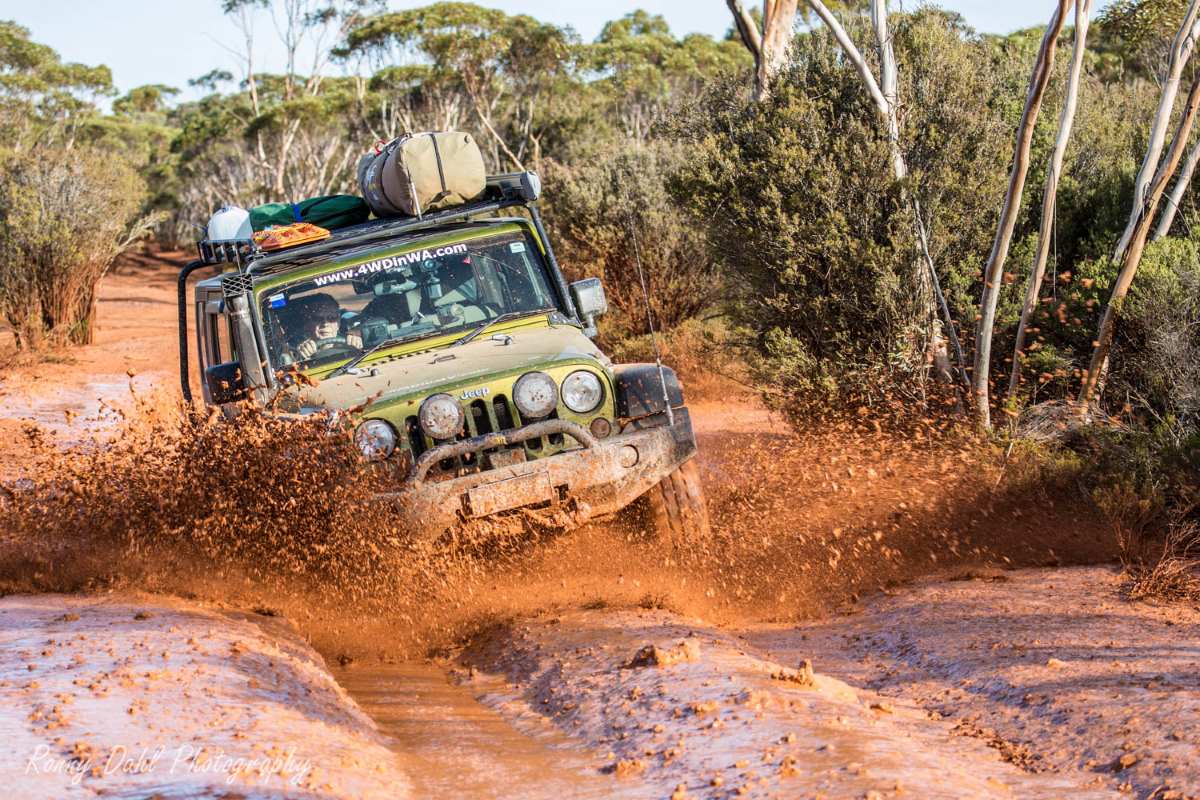 Jun 29, 23 08:30 PM

Well 7 of us just traveled to the Pink Lake cv/pk in Esperance. We had such a great time there, all staff were very accommodating and friendly. The camp

Aug 21, 22 04:20 AM

Hi! Welcome to offroad dad and my journey in life doing things on a budget using my hobby offroading touring camping and survival as a way to cope and

Mar 30, 22 02:53 AM

When Camping With Children kids hygiene items like wet wipes (baby wipes) are the best thing for cleaning kids, bring a few spare packets. Don't forget to..
---
Leave The Holland Track And Go 4 Wheeling In Western Australia.
4x4 tracks 250-500 km from Perth.

---