Yeagarup Dunes And Beach.
Getting to Yeagarup is by Ritter road just off Vasse Highway. Ritter road is a well maintained gravel road. The area is part of the D'Entrecasteaux National Park.
Distance from Perth: 330km
Nearest Fuel: Pemberton 24km, Northcliffe 35km
Size: The Sand Dunes cover almost 30 square kilometres
The Dunes:
This was our second visit to Yeagarup Dunes and our first visit to the Beach!                                                                                                                                                  
Since last time (2009) the entrance to the sand dunes had completely changed. In 2009 it was a winding slingshot drive up the sand, this time however it was a straight hill/dune climb (about 50 m high on a decent angle) and then right into it. This goes to show how much sand shifts, even day to day previous tracks get covered by sand blown by the winds.
At the edges of the sand dunes big trees are swallowed by the sand, it makes quite an interesting sight!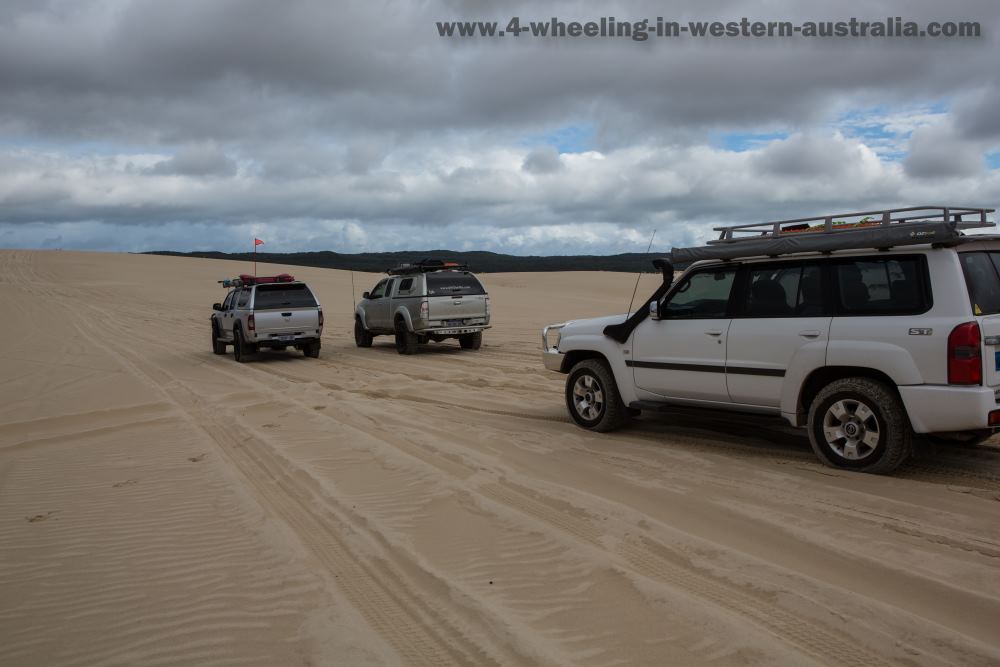 The drive along the sand dunes within the markers is not very long (only about 4 km), but access to the rest of the dunes is anywhere to the west along the marked area.
Whilst driving within the marked area treat the same as you would a street, keep left at all times and only deviate from the marked area if safe and while traveling with others.
The sand is quite soft but not too bad along the marked lane/area.
We started the day by heading straight to the beach and  then return to the sand dunes as we were staying at the leaning Marri camp grounds, this allowed us to spend time on the beach while having plenty of day light to get back and enjoy the sand dunes with only a short drive to camp (3 km).
We ended up watching the sun setting over the dunes which was a pretty cool sight to see and not something you would see every day.
Doing this caused us to drive back across the sand dunes in the dark which is very dangerous, even for experienced 4wders. If you should end up in the same situation follow the tracks you made in the sand as it will be the safest way back. Spotting drop offs is hard enough in the day light, in the dark it is near impossible. I would recommend anyone doing this unless you know what you're doing.
For more on sand dune and general sand driving see driving-on-sand
The Beach.
Getting to Yeagarup beach is about a 30-40 minute drive, the journey starts from the airing down and registration station ($11 per vehicle which covers all national parks for the day).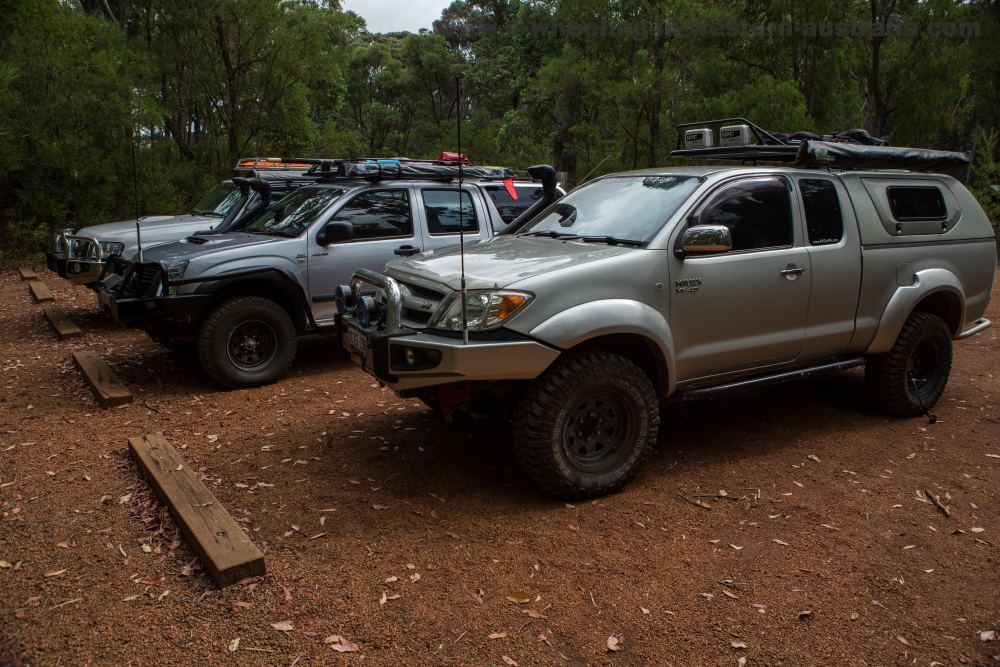 Yeagarup Airdown and Registration Area.
From the air down station it's straight to the sand dunes along the marked lanes heading south, sand dune drive is about 5 km which then turns into bush sand tracks winding 5 km all the way to a big sand dune descent, getting down is easy getting back up can be a real challenge without the right psi.
Once at the bottom continue in a south direction, an obvious track, this heads straight to the beach.
The entrance to the beach is a steep descent, again it's easy to get down but can be a challenge going up the dune when returning.

On Yeagarup beach there are only two directions one can go, east or west!
In the west direction is endless beach, so getting a private spot on the busy days will be so easy.
To the East is a 2-3km long beach run which leads straight to the Warren river mouth. Given the size of the Warren River it will be flowing into the ocean most of the year.
On the other side (opposite Yeagarup beach) is Warren Beach which takes leads to Callcup Hill, a whole other journey, one we will be doing next time we are in the area.
There are two ways to cross the Warren River.
Crossing where it meets the ocean or being lucky to find a shallow section along the river where it cuts through the beach.
The safest option is finding a narrow and shallow section along the beach away from the ocean.
Crossing at the ocean will require timing it with the waves/swell. Stop and get out, watch the waves for a while if you surf you will know what to look for as waves are in sets. Getting this wrong and your vehicle could be a goner.
If you have no experience with waves, water/river crossings or traveling solo DO NOT ATTEMPT IT!!
Always remember crossing a river is at your own risk, there is no insurance!
Along Yeagarup beach are a few long fresh water puddles (formed by the Warren River), if lucky you will spot the odd kangaroo and other wild life drinking from them.                        
Only in W.A. would you commonly see kangaroos on the beach!
Crossing The River.
Click Images To Enlarge.

General Track conditions and difficulty:


Easy

to

Medium (

River crossing can be

Extreme

)
Sand Dunes, Sand Tracks and the Beach they are all very soft. A psi of 12 or lower is common here, especially when returning from the beach as there are two big sand dune climbs. One is at the beach entrance which is short but very steep. The other one is at the second sand dune formation, a steep 300 m long climb! Expect to be revving high rpm in 3rd gear low from the bottom to the top!
Apart from that it's dealing with soft sand which is no problem with the correct psi. Know the tides!
There is one more thing, the Warren River crossing! This crossing can be Easy to Extreme, don't attempt alone and please see the following link on river crossings.
Things to do:
4WD Explore D'Entrecasteaux National Park
4WD sand dunes
4WD Beach River crossing (when safe and not solo)
Sand boarding the Giant Dunes
Surfing
Bush Walking to Yeagarup Lake
Fishing from the beach
Best time to go:

 
Anytime:
Cooler than Perth in summer and winter.
Places to stay:
Leaning Marri Camp ground is right at Yeagarup Dunes, its run by the DEC. There are no bookings so during the busy seasons getting there early is paramount if you wish to camp there. Any other time it's not very busy which is fantastic!
They have toilets and park bench-tables.
Treat it like off-road camping as there are not bins around, whatever you bring in make sure it leaves with you. Don't leave a mess behind!!
Camping fees apply.
For other camp grounds nearby see the Pemberton page.
For information about Callcup Hill see this link.
Yeagarup GPS Waypoints:
| | |
| --- | --- |
| For information about How to enter the GPS Way-points into Google Earth see this video. | |
---
For information about How to enter the GPS Way-points into Google Earth
see this video.
---
Ritter Road Access:
Ritter Road:
| | |
| --- | --- |
| Latitude:              34°27'59.57"S | Longitude:          115°55'34.56"E |
---
Yeagarup Dunes:
Air down station/area:
| | |
| --- | --- |
| Latitude:              34°32'28.08"S | Longitude:          115°52'28.36"E |
---
Sand Dune Entry (start of sand dunes will move due to the shifting sands):
| | |
| --- | --- |
| Latitude:              34°32'56.18"S | Longitude:          115°51'46.23"E |
---
End of Dunes Start of Bush Tracks:
| | |
| --- | --- |
| Latitude:              34°34'2.28"S | Longitude:          115°50'50.60"E |
---
Second Sand Dune Formation (just before the beach):
| | |
| --- | --- |
| Latitude:              34°34'57.04"S | Longitude:          115°49'22.89"E |
---
Second Sand Dune Formation Exit (access track to the beach):
| | |
| --- | --- |
| Latitude:              34°35'13.19"S | Longitude:          115°49'0.88"E |
---
Yeagarup Beach:
Access to the Beach:
| | |
| --- | --- |
| Latitude:              34°35'37.29"S | Longitude:          115°48'32.90"E |
---
Warren River Mouth:
| | |
| --- | --- |
| Latitude:              34°36'37.46"S | Longitude:          115°49'42.73"E |
---
Warren Beach (also access to Warren Beach Road, also the way to Callcup Hill):
| | |
| --- | --- |
| Latitude:              34°37'52.71"S | Longitude:          115°51'5.57"E |
---
Leaning Marri Camp Ground:
Leaning Marri Camp: 
| | |
| --- | --- |
| Latitude:              34°32'20.70"S | Longitude:          115°52'29.88"E |
---
Leave Yeagarup And Go 4 Wheeling In Western Australia.
---
Jun 29, 23 08:30 PM

Well 7 of us just traveled to the Pink Lake cv/pk in Esperance. We had such a great time there, all staff were very accommodating and friendly. The camp

Aug 21, 22 04:20 AM

Hi! Welcome to offroad dad and my journey in life doing things on a budget using my hobby offroading touring camping and survival as a way to cope and

Mar 30, 22 02:53 AM

When Camping With Children kids hygiene items like wet wipes (baby wipes) are the best thing for cleaning kids, bring a few spare packets. Don't forget to..