Wongan Hills Caravan Park.
by Brian
(Perth, WA)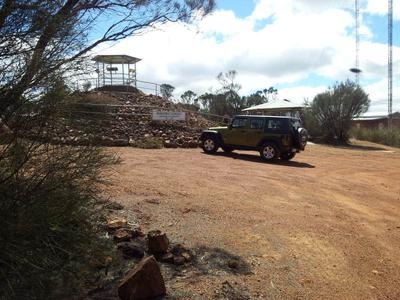 The O'Brien Wheatbelt Lookout.
We stayed at the Wongan Hills Caravan Park for a couple of nights late September, being in town for a big birthday celebration.


We stayed in one of the New Chalets, the accommodation was excellent and well cleaned on our arrival.
The Wongan Hills Caravan Park have all the basic facilities you really want like: Barbecue facilities, Washing Machines, dryers and 2 ablution blocks.
From the caravan park to the town centre there is only a short walk where you can find the visitor centre, IGA and Celebrations, Wongan Hills Hotel, Bakery/Cafe and a few other retail shops.
When here don't forget to visit the visitor centre, they will tell you about the tourist attractions in the area and if you need a gift call in to the gift shop in Wongan Hills I am sure they are able to help you find the gift you are looking for with the big selection they have in stock.
One of the things Wongan Hills is known for is the amount of Australian Wild Flowers you will find in the area from the middle of September to the middle of November. One of the tracks starts just behind the caravan park and is just over 2 km long.
For a great lookout near town try Mt O'Brien Wheatbelt Lookout, this lookout is located about 14 km out of town this is the second highest point in the area (424 meters) and remember to bring your lunch here are tables, seating and BBQ facilities.