Touareg expedition mods
by Steve
(Perth)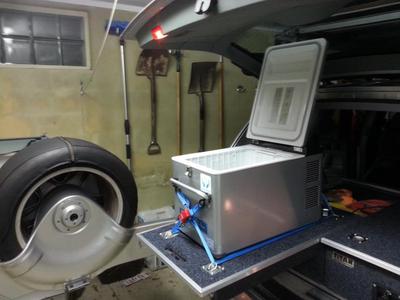 fridge on drawer unit
This is my 2004 Touareg V10 TDI, after years of suffering an old Holden Rodeo crew cab for many years, we wanted something with a bit more comfort and capability.

New this machine would be way out of our price range, however this was affordable and in great condition. out of the box it is an incredibly capable unit as it has adjustable air suspension and factory locking diff's rear and centre as well as traction control etc.

Not that the std V10 is a slouch this one has had the engine chipped and tuned to R50 spec with 258kW and 850Nm of torque. up from 230kW and 750Nm.

We fitted:
an Ironman roof rack with landcruiser brackets and fittings.
Some Titan drawers from 4wdsupacentre.
The smallest rims that will fit are 18" and they have General Grabber AT2 255/65x18

The wife and I are planning to do Karijini Gorge and the Gibb River rd plus weekends away whenever we can get away.

Not only does this car go very well off road with over 300mm of clearance but with the suspension lowered to highway mode it handles like a sports car with incredible overtaking ability to boot.