The Tedota
by Ted Deacon
(The Vines)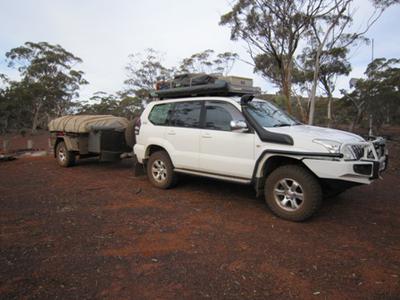 Well it started out as a stock 05 GXL toyota prado and is now called The Tedota after all the add-ons and mods i have done to it.

I have all the usual mods like suspension lift, bar work, lights, roofrack etc and some that i have made myself after plenty of money and lots of research from what others have found to be good or bad.



The list is as long as your arm and a picture tells a thousand words.

So check it out and let me know what you think.
Join in and write your own page! It's easy to do. How? Simply click here to return to Your 4x4.
May 04, 21 11:33 PM

This page will tell you about us and why we decided to make the website 4-wheeling-in-Western-Australia...

May 03, 21 01:48 AM

This 79 series V8 dual cab is the most complete dual cab we have yet seen. But what...

May 03, 21 01:14 AM

Our review on the 79 Series LandCruiser V8 Turbo Diesel Dual cab Ute, how it handles the beach and the Australia outback...