The Pilbara ~ secrets.
by Joe Fury
(Newman Western Australia)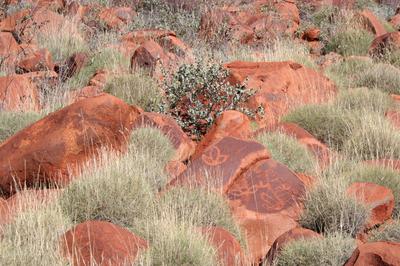 Punda Petroglyph site ~ inland Pilbara
G'day Off Roaders


The inland Pilbara is a vast tract of land, defined as semi arid by as it is situated above the Tropic Of Capricorn it is in the Tropics, thus the region can and does have severe effects from the northern Monsoonal weather systems and of course Tropical Cyclones.
Not all cyclones impact in an adverse way so far inland, but heavy rains and strong winds are part of the deal when there is a "blow" during the wet season.
All the inland waterholes and major water courses benefit hugely from the heavy rains associated with these cyclonic systems that occasionally make the distance deep inland and after such events all major rivers and streams run a banker with almost blood red water pouring into the low lands and then simply disappearing int the earth.
The East Pilbara region has a very significant wet land area known as the Fortescue Marsh, it's importance not only as a wet land and bird breeding area can only be fully appreciated from the air, although terrestrial access is reasonable at times, vehicles can and do get bogged to the chassis rails.
There are several sites of significance in regards to Geological wanders and Indigenous Culture, these sites have been there since the first recorded visitation during the early Explorer years, yet it took modern technology to find the most recent wonder ~ the Meteorite Impact Crater, known as the Hickman Crater.
Dr Arthur Hickman of the Geological Survey of Western Australia was the first modern human to see the crater using Google Earth on his computer, subsequent field and laboratory work by Andrew Glikson and Arthur Hickman found evidence to support an impact origin, quite amazing really, as the crater has been there for an estimated 50 000 years, but it was only discovered in July of 2007 ~ situated around 36 Km's north of Newman at 119*41'E 23*02'S.
The crater is well inside the Atlas Mining's lease, yet public access is still available ~ hopefully the Crater will not be seen as a mineral resource, the near by Punda Petroglyph site and the old Ochre mine, this is really a remarkable part of the inland Pilbara.
The East Pilbara region is around 379,500 square Kilometres in area, what might you discover on your adventures though the Pilbara.
Safe travels : Joe Fury