The inland Pilbara.
by Joe Fury
(Newman Western Australia)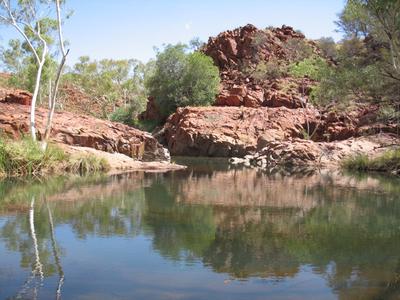 Thunder Gorge and Pool ~ Newman
G'day Adventurers


I thought you might be interested in a little of what is happening in the inland Pilbara, especially at this time of the season, weather wise the days are mostly sunny and temperatures range some where in the mid twenties to the low thirties, night time temperatures are still in the double digits but quite cool.
All the local waterholes are chocka block full and looking picture perfect with the Fortescue River still carrying a good flow of water below the Ophthalmia Dam, the dam too is looking very nice indeed.
The Ophthalmia and Hamersley Ranges are both showing healthy green grass coverage and no doubt the wild flowers will again be spectacular when their time to sprout comes.
On a very recent road trip to Tom Price via Karijini National Park I was surprised at the lack of visitors, but it's early days in the touring season.
Tom Price, like Newman is still reaping the benefits of the resource industries "glad handing" of funds and much is being done in both towns with Newman looking very much like a construction zone and no doubt when the dust settles the empire builders will all accept their industry awards of excellence ~ yes, that's pure sarcasm on my part.
All the building and bulldust aside in the town(s) the region is most certainly a very beautiful and special place to come and visit, although this story isn't strictly about four wheel driving, you can create your very own four wheel driving adventure simply by visiting the inland Pilbara.
Safe travels : Joe Fury