Southern Surprise
by Karel van Geyzel
(Perth, WA)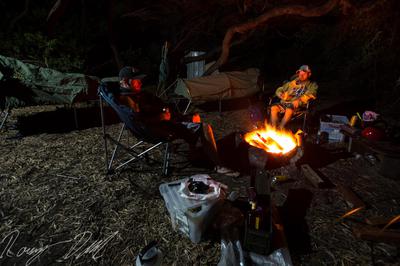 In March 2013 three of us in a Hilux, Patrol and Rodeo headed south for a few nights, with the first stopped planned at D'Entrecasteaux National Park.


The scenery at D'Entrecasteaux National Park changing from forest to Yeagarup Beach and Sand dunes is amazing.
I had been there about 18 months earlier and was taken back by how vastly the dunes had changed in that time.
We ventured through the dunes West then down the coast crossing the Warren river before heading back to camp. There was nobody in sight and the park was ours. A great start for a get away.
On the 2nd day we continued south though Northcliff down to West of Windy Harbour.
Once we hit the bush again it felt nice and remote. After bit of fun on the beach and finding a place to camp we set up with a good fire, a few beers and some relaxation.
In the morning heading east along the southern coast, Emus and Kangaroos were vast and the track ahead was evident that it was not used often.
There was fun tracks through thick scrub but I started to wonder if we were going to find room anywhere to set up the swags.
Suddenly as if my prayers were answered we came across a hidden area. Sheltered with a fire pit ready to go and even a can crusher. In the middle of nowhere was a camping paradise. The only downside was not being able to park the vehicles in the most favourable position.
We had plenty of time before sundown so we thought we would keep pushing along the enjoyable track and could turn back when times up.
After another 20 min driving I was confident we could not find a better spot for camping and the track was pretty much coming to and end when Shazam! Another awesome camping spot. Even better than the first. Fully sheltered by peppermint Trees and with a rope you could climb down a cliff to the beach.
Off came the fishing Rods and the camp was set. These areas were obviously set up by CALM or the rangers and were respected by us.
We could not ask for a better surprise finding that little coastal outback oasis and hope to find other havens in the future.