Shark Bay and Kalbarri
by James
(Baldivis, WA)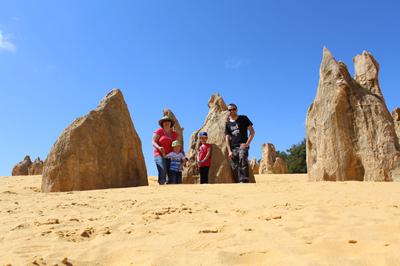 We'd just bought our new FJ in August and in October, headed up north with our two kids (3yo and 5yo) for a trip to Shark Bay.


This was the first time the kids had experienced camping and a bush fire! They loved every moment. From feeding dolphins at Monkey Mia, to fishing in Cape Peron and bush-camping at Murchison House Station in Kalbarri.
Favorite 4WD moment was traveling from Denham to Cape Peron via Bottle Bay (for a fish) a really nice mix of red-bush and white sand (beach) driving. The FJ didn't skip a beat, nor did the Engel (cold beers for all!)
On the way home from Shark Bay we camped in Kalbarri for a few nights. The kids collected firewood for their first bush fire, and the next morning were in awe of the wild goats, emu family and roos just walking through camp. Both kids caught some bream out of the Murchison which was very exciting.
I follow 4WDinWA closely so we can look at future trips and camps, incredible wealth of knowledge and information.
We're looking at some South-West trips while the weather is warm. Might check out some of the trips you guys have done!
Cheers