RA07 Rodeo - The Begining
by Karel van Geyzel
(Perth,Western Australia)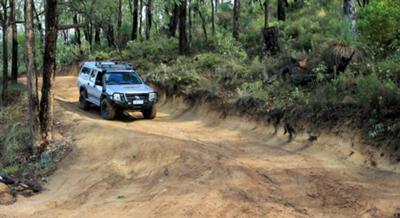 On The Track
After deciding to buy a 4wd and allowing 30K to do so I started hunting and researching into what I could get for my money. To my surprise 30K was nowhere near enough to get a 4wd within 5 years old which would be in good nick and well fitted.


The 4wds I could afford had bad reviews in regards to dependability. This issue coaxed me to look further for reliability at a good price with the possibility of tailor making my rig.
One of the 4wds I test drove was a Isuzu Dmax. I was impressed with celebrated reliability of the motor and duribility of the vehicle. Continuing to hunt for a 4wd within my price range (leaving a reasonable amount to make improvemts on the buy if needed)I came accross my Rodeo.
The vehicle on intial test offroad handle well and for casual offroading was quite capable as standard. But my wish was not to be resticted to chicken tracks but to improve the vehicle and enjoy the passtime to its fullest. Also to keep up with my Hilux driving mates.
Buying and building my rig has been well worth it. A lifestyle change opening windows of opportunity for fun and adventure with family and friends.
Modifications so far - 2 inch lift, Raw Nitro Suspension, Mickey Thompson Tyres, ARB Front Bar, ARB underplates, ARB Sidebar/steps, Safari Snorkle, Dual Battery System, Custom made shelving/slides in rear, Deisel Power Chip, ARB Roof Rack plus more.