Project Prado 150
by Justin Van Viersen
(Perth)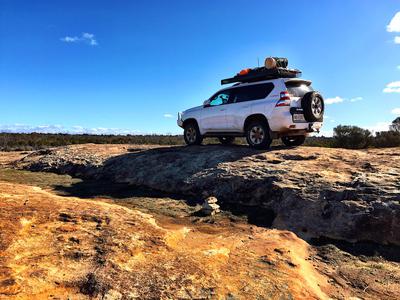 I bought the Prado D4D 3.0L with the intention of setting it up for touring and medium core 4x4ing.

I have added a few mods.

Lift
Tyres
Catch Can
Extra fuel filter
Recovery points
ARB bullbar
Spotlights
Second battery
Monitored power board in the rear
front and back anderson plugs for solar, compressor etc
UHF
In built Phone/Data hot spot
Home made Hema mapping system

Its the perfect blend of comfort, ability, economy and 4x4 ability for my current needs.

I draw a lot of inspiration from your videos, I did the Holland Track a couple weeks after you guys.
Done a few family day trips and an easter camping trip to the South West.

I have Exmouth in a few weeks and Steep Point/False Entrance in the summer. Also done a few of the local places like Julimar, Mundaring, Wilbinga etc

Keep up the good work.
Join in and write your own page! It's easy to do. How? Simply click here to return to Your 4x4.
Jan 15, 21 02:39 AM

Adding a fibreglass or steel car canopy to a single cab, extra cab or dual cab Ute will increase storage space immensely...

Jan 15, 21 02:32 AM

Exercise and fresh air is very good for kids. Combine camping with kids and it gets even better.

Jan 15, 21 02:22 AM

When Camping With Children kids hygiene items like wet wipes (baby wipes) are the best thing for cleaning kids, bring a few spare packets. Don't forget to..