My little toy
by Joe
(Venice, Italy)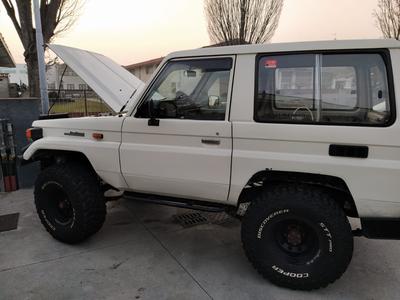 Hi everyone I'm Joe from Italy.
This is my Land Cruiser BJ71 that I use for fun and small travel,
Custom made 2,5" lift kit.
Bull bar with 12000 winch and extra light
Front and rear ARB diff lock
35" Cooper tires
Mount the standard 13bt engine 3.5 Td with 2" steel pipe and modified turbo pressure and diesel pump.

I fell in love with off-roading when I was on a working visa in Australia, I found a job as a sandalwood cutter near Kalgoorlie and experience the awesomeness of the incredible outback while driving a Land Cruiser (don't remember which model)


Here in Italy is difficult to do offroad journey so I turn into some small Sunday travel and trial.
I really hope to come back one more time in Australia and do a proper outback holiday.

Great job with the site and youtube channel!! I love it!!

Join in and write your own page! It's easy to do. How? Simply click here to return to Your 4x4.
May 04, 21 11:33 PM

This page will tell you about us and why we decided to make the website 4-wheeling-in-Western-Australia...

May 03, 21 01:48 AM

This 79 series V8 dual cab is the most complete dual cab we have yet seen. But what...

May 03, 21 01:14 AM

Our review on the 79 Series LandCruiser V8 Turbo Diesel Dual cab Ute, how it handles the beach and the Australia outback...