Matt's 2001 GU Patrol
by Matt Stock
(Cowra, NSW, Australia)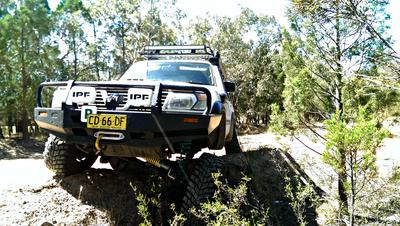 My 2001 Nissan Patrol is setup primarily for medium to hardcore off-road use.
I am only 19 years of age and a 3.0 litre patrol was basically the best bang for buck and with sufficient mods these motors are not as bad as people make them out to be.

Okay! So let's start on the outside and work over the whole vehicle! (As Ronny says)

For the barwork I am running an ARB bar which I have modified to remove the not so appealing front bumpers (Very ugly). I have a set of 130w IPF spotlights on the front and a 12000Ib Domin8r winch (Which has been used alot.

On the roof I have a standard roof top tent rack (Which does not actually have a tent on it) I have also got a Ironman Awning with a LED light strip just to provide light when cooking at night.

I do not currently have any bash plates on the vehicle other then the factory plate to protect the fuel tank and subtank.

For lights as mentioned above I have a set of 130w IPF spotties and a 42" lightbar mounted to the top of the vehicle. The spotlights and lightbar are wired into the same switch which I do not currently like and will be changing to seperate switches. (At night in the rain, the light bar makes it difficult to see.)

Lift and Tyres:
This will be a large area for the simple fact that this car is primarily used for hardcore driving getting the lift and tyres right is key.
Let's start with suspension.

I am running 12" amada extreme remote res shocks in the front and a set of 13" amada extreme shocks in the rear. My spring setup is 5" flexi coils in the front load rated to take the winch and bullbar with a 0kg constant load flexi coil on the rear, which for a spring loaded at no weight can still hold over 100kg of camping gear and tow a box trailer with no worries at all.
Due to the large drop and articulation in this vehicle I have used a set of coil retainers in the rear and dropout cones to ensure my spring does not fly out and potentially damage the vehicle or even worse another person.

As for the front the coils drop out even further again, I currently running 80 series bump stops which assist in keeping the coils in place but due to the large shocks I am also running and extra bump on the bottom as the coil tends to lift from the top.

I have a adjustable front and rear panhards along with an adjustable draglink and aftermarket tie rod. I also have adjustable upper control arms in the rear to correct the pinion angle of the diff and also an aftermarket set of lower control arms which are much thicker and stronger then standard.




I am running dropboxes to suit the lift and to correct the castor angle of the front diff. I am also running a tough dog RTC dampener on the front which I have just recently removed the spring in order for it to become a regular dampener only because the steering movement was quite stiff and at times was hard to steer.
Tyres:
As for tyres I am currently running 35" Mickey Thompson Baja Claws which are a directional tyre and absolutely fantastic in the mud and all offroad conditions and also have very good road manners. These tyres sit on a 15x8" ROH Blaktrak rim with a -22 offset.
The only modification made to the driveline would be the front locker and an extremely tight rear LSD which allows drive to both wheels on full articulation. Which is great on the road and awesome offroad.
Interior:
The interior is not that special, I have a home made fridge slider in the rear with a home made drawer system, which has 3 drawers, one consisting of tools, zipties, other handy little gadgets, radiator caps and so on. In the middle drawer is where all my recovery gear is, extensions strap, shackles, snatch block, trunk protector, winch blanket and all the rest.
The far right drawer is currently empty and houses a few camping utensils and things alike when going away.
As for the front of the vehicle, Im just running an aftermarket stereo with USB capabilities. I have a 40 channel uniden which I took from my previous vehicle.
Engine bay:
The engine bay is not far from being stock, I have done an EGR block and that is it. Everything is still standard but I do have plans in the very near future of getting my pillar pod with gauges sorted and manual boost control with a MAF modifier in order to run more boost (20psi)
Future Mods:
Very very soon ill be going 85% reduction gears in order to get my crawling speed back from going bigger tyres.
EGT, Boost and Water temp gauges housed in a pillar pod.
Complete manual boosting (Tillix setup) with a glow plug timer mod to avoid over heating the head. A voltage modifier for the MAF sensor in order to remove limp mode and add extra fuel into the vehicle to run 20psi.
Rock sliders and brush rails
Quarter chop with a custom tubed bar
37" BIAS tyres of some description
Rear superflex swaybar
5 link front setup.
Thanks for reading my build, I am sure there is plenty I have missed.