! Website tracking This is the Universal Analytics tracking code for this property. To get all the benefits of Universal Analytics for this property, copy and paste this code into every webpage you want to track.>

Gun truck !!!
by Russell
(Boddington wa Australia)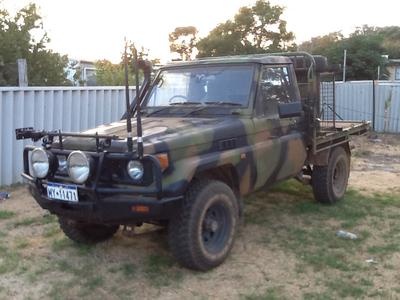 Hi my name is Russell and this is my 1988 75 series landcruiser tray back. I use it as a hunting rig for my pig dogs and I also bow hunt keeping up my skills as iam a ex paratrooper with 3 battalion royal australian regiment 3rd platoon bravo company ( 3 RAR )

I have painted it in Australian army camo colours ( olive drab,tan and black ) all in matt paint Ias I need to hide the truck in the scrub and head out bow hunting on my camo grizzly quad bike that way it's not stolen in two or three days when I return.

I have a 2 inch lift steel ,bull bar,hid light force xgt,custom dog cage, twin wheel carrier on the cage ,long range tank dual battery's led tail lights,custom tray shorter at the rear big horn mud terrain rubber black steel rims ,UHF radio ,winch cutout if replacement head lights ram air snorkel ,it also has a removable roof and rear fire wall .

I am currently in the process of buying my second v8 cruiser this time in the dual cab witch I am going to have it as a tribute to the boys of the (special operation task group Afghanistan) and the boys that did not come home that also had landcruisers and enjoyed 4wding too.so stay turned for the pics

See ya out there.......
Nov 26, 20 03:53 AM

Andrew St Pierre White and his 4xOverland Troopy 78 Series is on Modified, yes another collaboration video with about 60 min of golden...

Nov 24, 20 06:53 PM

There are many different tire deflators on the market; most of them screw onto the valve and release the air pressure. Below are different types of tyre deflators.

Nov 22, 20 11:15 PM

Tips and things you should know before you take your 4x4 vehicle off road for the first time...