Extremely exceptional.
by Joe Fury
(Newman)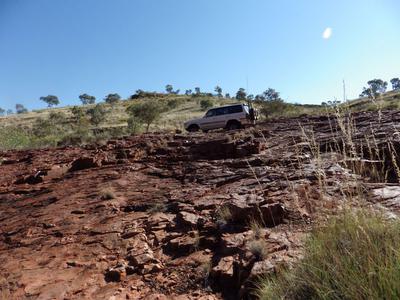 Cascade area
G'day Adventurers


I trust the title to this particular story makes sense, because this tract of land and the waterholes dotted along the upper reaches of Kalgan Creek are genuinely exeptional places not only because of the visual aspect but also because getting into these waterholes requires a high clearance four wheel drive, with low range gearing as the track is extreme hard core four wheel drive in several places.
This region is relatively elevated as it sits high on the spine of the Ophthalmia Range with the present day Great Northern Highway and a high voltage powerline the only man made deliniators between the summit of Mount Newman and the deep gorge and waterhole known as Stuart's Pool, these deliniators soon become very insignificant as they blend into the ancient folds of earth that is the Pilbara.
The track into Stuart's is north of Newman at about the 28 kilometre mark not overly difficult but it is rough, like most of the non mining exploration and survey tracks, this one was first driven and defined by dead reconning some 40 years ago by Mr Stuart Otto, who first saw the gorge and pool from the air.
Stuart's is one of the more difficult to reach "get aways" with few casual visitors who actually make the trek all the way in, there are a couple of chicken out areas where drivers have opted to turn back, as the descent into Otto's gorge is technically difficult, with severe side angles on a very rocky, loose shale and rock step(s) off the plateau country, just reward is having this deep cleft in the range and it's cool shaded waters to youself, the geology is breath taking.
Stuart's pool is a further 5 kilomteres deeper into the Ophthalmia Range, through quite steep sided valleys all very spectacular visually, but the best is yet to come, with two super challenging climbs both with loose rock and deep erosion channels, the first climb/scrabble/scramble gives you a nice view of the cliff face above the pool, but you still need to tackle the descent into the bed of Kalgan Creek ahead but in the floor of the valley, low range low gear - rear diff locked and eyes wide open stuff, once down and across the dry creek crossing where seasonal floods see a depth of three or more metres.
Now only a mere two hundred metres or so from the pool, with just a few thousand tyre shredding, diff bashing rocks to clamber over and you reach the top of the gorge above the pool, this area is a massive cascade that forms a waterfall into the gorge, the view, the geology and the challenging journey are all worth the effort and you will most definitely appreciate your driving skills and your vehicle.
Safe travels : Joe Fury