Evolution of my 80 series # 2
by Joe Fury
(Newman Western Australia)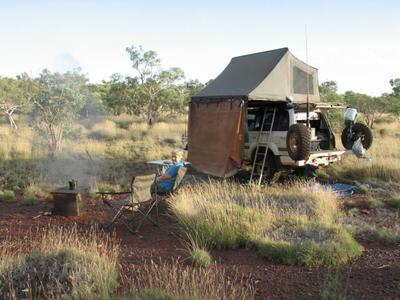 Cruiser camping in the Pilbara.
G'day Adventurers.


My Land Cruiser 80 series has over it's life time under gone several significant additions and modifications, always with the aim of making the vehicle user friendly and capable of carrying enough of the required equipment to help sustain life and have a good degree of creature comforts when we are touring far from civilization.
The Cruiser in standard form is quite a comfortable "platform" but with thoughtful planning and good quality ~ affordable ~ accessories the vehicle can be optimized to allow for living with and out of it.
Seemingly little things like window tint on all side glass can cut sun glare into the cabin of the vehicle significantly, also the use of a half folded sun shade on the front windscreen will help reduce glare and heat, simple but very effective, legally questionable but if you keep the sun shade well below the drivers eye line forward when correctly seated in the driving position, you won't receive any attention from the highway Police patrols.
I can not ad any significant input into the seating comfort side of the Cruiser, apart from the fact that sheep skin covers make sitting/driving a much nicer chore.
The Cruiser has a rear compartment Cargo barrier that effectively keeps the load where it belongs and with the rear sliding drawer system most of the carried gear is under the deck lid. I have built an upper deck and divider wall to enhance the load carrying capacity, mainly for the softer "squashable" objects and the odd things like the rather large exhaust jack, folding shower tent(s) and the humble wooden directors chair that now serves it life as a comfortable folding toilet.
The rear cargo area then still has room enough for two rather large roll/fold chairs, barbecue plate and folding campfire surround, all this is carried along side a
purpose built secure storage locker that was once used to house two competition grade double barrel shot guns in their cases, but now the locker serves as a spare parts and folding aluminium table storage compartment.
The Cruiser was fitted with an "Outback" roof top tent back in March of 2007 and it has never been off the vehicle, this piece of folding brilliance is worth not only the initial financial cost but also the marginal cost in fuel, purely because it is there and ready to be used at any time ~ day or night. We have on many occasions stayed out overnight instead of heading back home, I have lost count at the amount of times we have free camped on various road trips, simply because of the roof top tent/camper, the roll up side awning and fly screen enclosure makes a static campsite situation over a few days very pleasant indeed, it does take a little effort to set up and pack away, but its all there ready to use ~ any time.
When my wife and I are touring, I remove the rear seats and "bolt in" the false floor that carries a second 60 litre Engle fridge and six plastic stackable cube boxes secured in place with "Atlas" straps ~ similar to the ubiquitous ratchet straps, only there is no bulky ratchet, the rear floor foot well area carries all of our potable water needs in several food grade "Jerrycans" ~ with this set up we are able to live quite comfortably for upwards of a month, with no resupply at all, often on these extended duration trips, we hunt and fish, but now days that's a rare thing to do.
Communications and entertainment needs and want's are in the next part of the "Evolution of my 80 Series Land Cruiser"
Safe travels : Joe Fury.