Ed's 2004 Hilux
by Edward
(Perth W.A)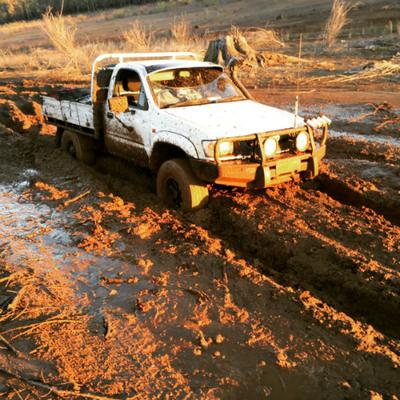 I have got a 2004 single cab tray back Toyota Hilux

Engine is pretty stock, 5LE with just an exhaust, kept reliable.

What i have done:
sunvisor
safari snorkel
2 x 9" lights with a 24" 2 row lightbar
Gme uhf
2" tough dog lifted kit with heavy duty torsion bars
General grabber AT2 265/75r16 with fuel revolver rims in black
custom bash plates, ute was used as template for a company.

Custom 2.5" exhaust with extractors and straight through muffler.

Fitted a extra cab tray to shorten the length as i did not like it so long and i am planning on getting a canopy and thought a long canopy would look funny seeing as the ute cab is fairly small.

sr5 flares fitted.

Arb air compressor.

I use it for just about every thing so i am designing it to be capable of long trips and capable of day trips on the hard tracks.

Done Mundaring powerlines, Dwellingup, Harvey, Albany and around Perth.

Planning on doing trips just about every where, try and explore us much as i can.

The favourite mod i have done to the lux would have to be the lift and tyres which just made it look tougher and gave the clearance.