Desert tourer
by Rick
(Adelaide)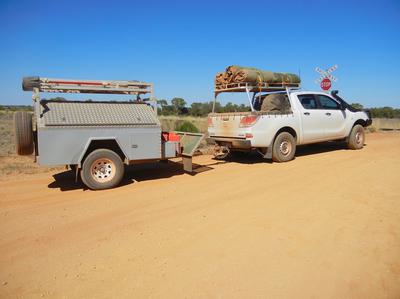 Old edition
I bought this Mazda dual cab 4WD new in April 2012, having had two GU Patrols (& a heap of other 4WD's) previously. Its appeal was that it was new, had an excellent launch review, was diesel, was comfortable, and on a test drive towed my trailer with ease.

My aim was to create a reliable tourer which could carry 4 to 5 people plus a full load at speed on highways and slow in the bush. That meant, from a load carrying perspective, a vehicle with a GVM which could meet this load and weight criteria - in other words, a dual cab ute. I also wanted to keep everything as simple as possible, which meant no 12 v water pumps and so on. Less is more, if ya get my drift. It seems I can get myself out of most a mechanical jams, so I needed to retain that feature, realising that if it was an under bonnet electrical or major mechanical issue, I was going to suffer anyway.

I have essentially only used the Mazda as a desert tourer, and for the first 80,000 km it, and I as driver, were in all 10 deserts working with two tour companies. It did some very hard yards - I s'pose that's metres, but it sounds better in yards. Why a Mazda? Well, $25,000 reasons why Vs a Tojo, and for a 4WD which was easier to drive, far more comfortable, quieter and had very similar torque, power and payload.

Immediately after purchase I installed ARB suspension, springs & shocks; 300 kg constant in the rear. At 110,000 km I replaced the tired rear leaves with a new set of 600 kg constant rated ARB springs. The 4 shocks are still OK after 120,000 km.

I've got an ARB bullbar, side rails, sidesteps and underbody protection. I installed a towbar, snorkel, snorkel socks, window tinting, seat covers, Lightforce HID spotties, secondary fuel filter and hilift jack mounts off the towbar. And I carry a second spare on a steel rim, along with an 8 tonne hydraulic bottle jack, and sometimes a hilift jack.

I've stuck with factory steel rims due to their 'repair-ability' in the bush. I've driven only on Bridgestone 697 LT All Terrains or their predecessors. Tyres are disposable items in remote areas, and I've seen many other brands but none so reliable as these at low pressures and low speeds in scrubs full of sticks & branches, extended hours on corrugates (a sure tyre killer), sand, stones & rocks and high speed blacktop runs

Originally I fitted a tubliner and had a custom made roof rack & second spare wheel mount; I used to carry seven swags on the roof & tow a 1.5 t supply trailer. That morphed into a custom alloy canopy, mounted on the tub. But, as many of us know, you can't seem to stop modifying and adapting your gear. Two years ago I bought a chassis mounted canopy from Trig Point. It's really well made and also has a 70 litre gravity outlet poly water tank under the canopy floor. It's only 1700 long - a great feature as it helps to prevent overloading! With the benefit of hindsight, I should have installed this canopy on day one.

I enjoy cooking and catering on a fire, so my current set up features that aspect. A key is the upright 65L fridge. Way better than the previous chest-style fridges with slides and drop downs - cheaper, too!

If going remote, I carry a full 18 Volt drill/angle grinder/rattle gun set. Normally I carry just electrical spares, sockets, open-enders, ringies , screw drivers, pliers, hammer etc. If a wheel bearing goes, it's not repairable out there anyway (another reason why I travel with another 4WD).

Fave areas include Gibson Desert & the Great Victoria Desert. I've driven the CSR eight times, and I enjoy the Tanami, and pretty much anywhere in the NT. The far north of SA and the Oodnadatta Track are hard to better.

In summary, this has been the most reliable and comfortable 4WD I have ever driven. Fitting it out has created endless hours of amusement. Our adult children are now using the Mazda often, and so I think I'll keep it forever.......