Deep inside the Pilbara.
by Joe Fury
(Newman Western Australia)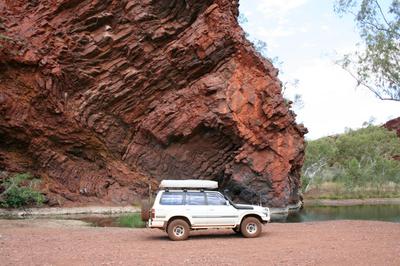 Geological pages ~ Kalgan Pool
G'day Adventurers


The inland Pilbara has many spectacular places waiting for you to discover ~ one particular place actually featured in the Australian production "The Japanese Story" ~ starring Toni Collette and Gotaro Tsunashima.
Kalgan Pool was the setting of the love/death scene in the movie.
Basically set around the mining region and industry with the usual romantic and dramatic story line, the movie is quite watchable ~ personally the Pilbara is the real star.
Kalgan Pool is situated deep in the eastern end of the Ophthalmia Range, where you will take a real journey back into the earths history in a geological sense. The gorge pool or waterhole is what I call semi permanent as seasonal rain falls have a marked influence on the pools depth and water quality.
The pool supports a large fish population, with Turtles and large Pythons adding to the aquatic mix.
Kalgan Pool is possibly the most popular and easily accessible waterhole to Newman and at times you simply can't be in the area totally alone, nonetheless it is a magnificent part of the Pilbara.
If you visit the Gorge/Pool bare in mind the place was created by nature over many millions of years, it is still an active place especially during the "Wet Season" ~ be mindful of the 30 Kilometre distance you are required to travel into the gorge, much of the journey is in and along the Kalgan Creek water course, which is mostly loose shale and river rock, with stretches of the creek carrying seasonal water, you will be negotiating several shallow "Billabongs", you may require Hi range four wheel drive negotiating the steeper shale banks.
The wet season has caught many people out in this gorge as there is only a relatively small patch of sky to actually gauge what the weather is doing, no rain might fall on your head, but torrents of water can and does cascade over the cliff tops into the gorge/pool and can easily trap the unwary visitor.
Wild life including Rock Wallabies, Birds, fish and Pythons can be seen in the back reaches of the gorge, you just need to be patient and quiet, on the trip in you can may also surprise small groups of scrub cattle or Camel that graze on the rich grasses along the creeks flood out areas.
The Nyiyaparli and Martu language groups are believed to have called the area "Kalga" and the gorge has cultural significance for the "People of the Land"
Safe travels : Joe Fury