Changing history.
by Joe Fury
(Newman Western Australia)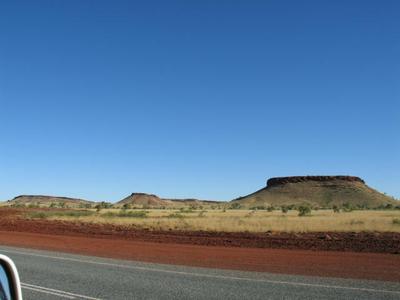 Chichester Range ~ Mesa country.
G'day Adventurers


I think you may be interested in what can be seen as history being changed, the change already taken is an all new bitumen section of road, at around 15 kilometres in length it is hardly worth talking about but for the reason it now exists.
For those of you who have at some time in the past travelled up into the inland Pilbara through to the towns of Nullagine and Marble Bar, you would most likely have travelled along the "old Great Northern Highway" ~ now days called the Marble Bar Road, the journey takes you through what might be considered featureless land, until you traverse the Roy Hill Station pastoral lease holdings/Hancock Prospecting (Gina Rinehart) Roy Hill mining operations, the road is a mixture of rough tar sealed stretches from Newman to Roy Hill, then it reverts to rough corrugated dirt all the way to Nullagine.
This particular section of the old highway passes through some of the most picturesque landscape in the region, with beautiful Mesa's and stunning red gorge country through the south eastern end of the Chichester Range, it really is scenic country, with early mornings or late afternoons the ideal times to capture stunning images, a photographers paradise and all you needed was time and patience.
If you travelled through this country in the past and had the time ~ patience to capture an image or twenty in that perfect Pilbara light, you are one of the privileged to have done so, because you now hold what can only be described as historic images.
Today the Marble Bar road bypasses Red Gorge and it's future and that of the southern Mesa country of the Chichester range hangs in the balance ~ it's called Commerce and Industry, Nation building and wealth creation, I call it a real shame, but you and I are now all so much poorer, we have lost a very scenic drive that takes you deep into heart of the East Pilbara.
I trust this story is not seen as a protest but as an observation into the rapidly changing landscape that is our Pilbara.
Safe travels : Joe Fury