A Jeep thing
by Graham
(Kalgoorlie)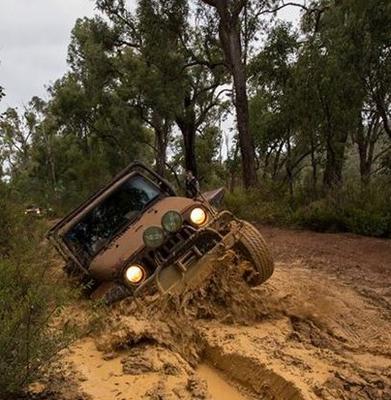 Stomping through the mud in Harvey
I have always had 4wd's growing up. My first was a 94 Suzuki Sierra, which was very impressive stock standard and could go most places I wanted. However, I wanted something bigger and more powerful.

I went through a 81 CJ and a TJ stage for a couple of years before test-driving a Jk. I was immediately impressed with the size of the rear and the easy handling a basic interior that leaves room for mods etc. and does not over-complicate things.

I scoured the net and came across what I thought was a bargain in Hopetoun near Esperance. Flying down on the weekend, I took ownership of the car.

I then embarked on the long drive back up the notorious country roads and dimly lit small country towns in the pitch black of night with no radio reception. It was then that the dreaded death wobble kicked in. Very harsh wobbling nearly threw me off the roads a few times. It was intermittent over the 6 hours it took me to make it to Perth. Turn out a dodgy job done by a backyard mechanic.

I took her to a well-known mechanic who while expensive their knowledge and help in my situation was appreciated and ended up driving like a dream.
MY MODS SO FAR..............

4inch lift kit Ruff country
35 in all terrain pro comp tyres
ARB air lockers front and rear
Detachable rugged ridge snorkel-Handy for if like myself you have bar work that prevents a standard snorkel being fitted also if you don't like the look of a snorkel for everyday city driving detach and re-attach at your convenience.

Sway bar disconnects.

Custom Full bar work around the frame of vehicle offers protection from smaller narrow tracks and also couples as a roof rack.

Been down to Harvey, Collie, Waroona, and Cervantes and after just recently relocating to Kalgoorlie looking forward to finding some tracks out in the Goldfields- might invest in a metal detector and go prospecting out bush to fund more mods for the JK.