80 series 1fz-fe turbo (hamburger with the lot)
by NATHAN WARD
(BENDIGO VIC)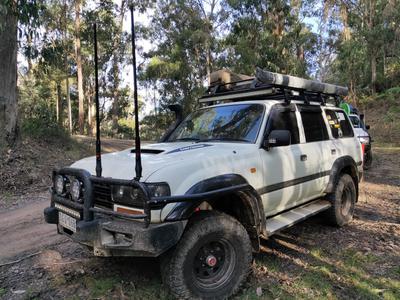 BACK IN 2012 I WAS THE ODD ONE OUT!
MY CLOSE GROUP OF MATES ALL BROUGHT 4X4'S AS THERE FIRST CARS, I HOWEVER BROUGHT MYSELF A COMMODORE.... FEELING LEFT OUT OF THE WEEKEND FUN, I FOUND A VERY CHEAP BOG STOCK 80 SERIES TOYOTA LANDCRUISER PETROL.

IT STARTED ITS LIFE WITH ME AS A MUD PUDDLE BUSH BASHER. I FEEL IN LOVE WITH THE THRILL, THE ADVENTURE AND SLOWELY STARTED MODIFTING IT.
THE MORE I DID TO HER, THE MORE IT DROVE ME TO ADD MORE MODIFICATIONS.

OVER TIME, AND SOME SERIOUS DOLLARS SPENT I STOPPED BUSH BASHING HER AND STARTED TAKING REALLY GOOD CARE, MY STYLE OF 4X4ING CHANGED TO MORE TOURING...

AS SHE SITS NOW, SHE IS 3INCH LIFTED, TWIN LOCKED DIFFS, PART TIME CONVERSION, ALL ROUND MODIFIED BAR WORK, LADDER, ROOF RACK WITH INBUILT SOLAR SLIDES, AFTERMARKET TURBO AND W2A INTERCOOLER, BACK SEATS REMOVED TO INSTALL A WATER TANK AND PUMP, WITH A FLAT BOARD INSTALLED FOR MORE CARGO SPACE. LONG RANGE SUB FUEL TANK, PHONE SIGNAL BOOSTER, FRIDGE CENTER CONSOLE, THREE DRAW SYSTEM ON THE BACK WITH SHELVING.

I CAN TELL YOU, ITS DEFIANTLY A HAMBURGER WITH THE LOT!!!