4x4 Recovery Tutorial Mini Series.
(How to video tutorials)
Welcome to our 4x4 recovery videos showing you how to use recovery gear in the correct and safe way.
We hope you take the time to watch the relevant videos to make everyone's 4WD experience safer out there on the tracks.
This webpage will be updated with new how to videos until the mini-series has been completed, so do return for new content & subscribe to the YouTube channel for direct updates.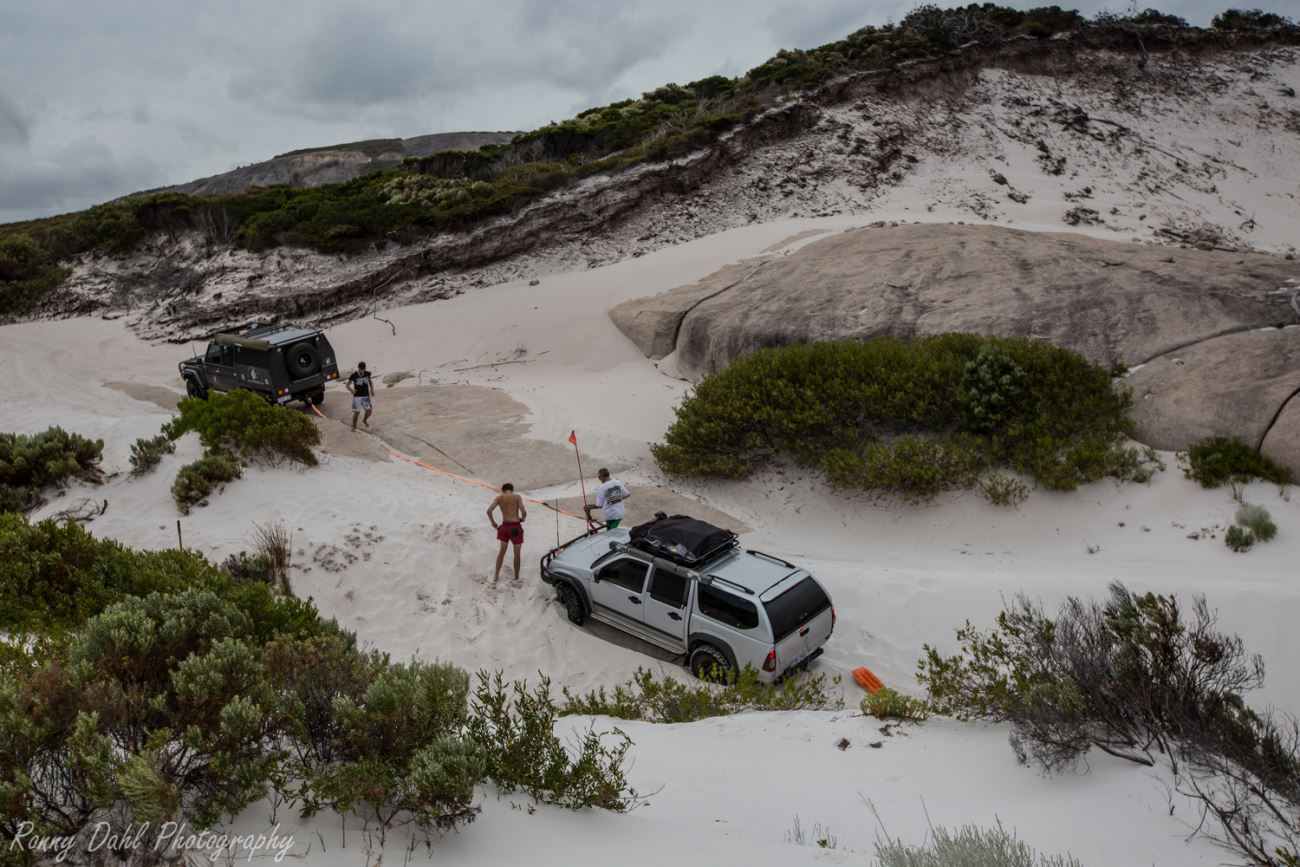 4x4 recovery tips and hints:
For new comers to the 4wd world before you read too much further on this page I'd suggest checking out the videos below first to get an idea of what winching recovery and snatching recovery is all about.
---
Every recovery is different:
Every recovery is different, it is impossible to prepare for each every situation, however with that in mind once you have done your fair share of recoveries newer and different situations start to become more varying rather than 'completely different situations'.
So just keep at it, BUT a few very important thing needs to be considered for each and every 4x4 recovery; 
Never ever cut corners or rush on safety, this is when things go wrong and end up becoming major situations rather than just a recovery.

Appoint one person (most experienced) to coordinate and take charge of the recovery at hand to avoid confusion and disagreements which easily occurs during stressful situations.
Use those line dampeners, that's what they are for.

Get everyone as far away from the death zone as possible, keep kids in the vehicles if that's the safest place.

Only use rated points, equipment and do I really need to tell you not to ever use the tow ball!?
---

Choosing the right recovery style for the situation:
Choosing the right 4x4 recovery method for the right situation is often something that's not thought through enough.
If you are lucky to own a winch and carry a full recovery kit you will have so many choices of different 4x4 recoveries, so when should you winch or use the snatch strap?
Well the best way to look at it is if the recovery looks tricky and requires a slow controlled recovery method then the winch should be your number one choice. Winching is great for slow controlled recoveries and there is no rush ever!
Winching should also be the top choice for hills and rocky terrain where slow and steady wins the race.
Sand tracks, beach and flat muddy bogs a snatch strap will serve very well but still consider the winch as it can still be a very useful controlled method.
However if water or mud is above the door seals the snatch strap will be the quickest way out and dramatically decrease the chance of water entering the vehicle.
This is also a big reason why experienced 4 wheel drivers have pre attached snatch straps on their vehicles to maximize the 4x4 recovery time potentially reducing the amount of water entering the vehicle.
There is a time and place for both 4x4 recovery methods, just plan ahead and think about it and it will come naturally to you when the time comes.


---
How much recovery gear is enough?
As said above, each recovery is different and will require different gear, amounts of gear and perhaps multiple vehicles.
So the answer is how long is a piece of string? Well to give you a rough idea see this page: winch kit / recovery kit (Link To Come)
---
What to do when you encounter someone in need of a recovery?
What if this person has no recovery points or recovery gear?
This is one of those topics that's big enough to write an entire page for, see here (Link To Come) for more info, including what to do if the person doesn't have recovery points! 
---
Be organized when it comes to your recovery gear:
Like a lot of folks I have a designated spot for my recovery gear, the exact place for my 4x4 recovery kit is in my external side cage.
Here I can keep my recover gear regardless if it's clean or completely muddy.
Other 4 wheelers keep an entire tub or even a draw aside just for the recovery gear, hopefully this gives you some ideas of storage for yourself and highlights how important the experienced 4 wheeler considers quick and easy access to the 4x4 recovery gear.
---
All situations and recoveries will be different due to the following;
Weather




Terrain & Environment




Vehicle




Experience




Stressful or none stressful situation




Equipment available

and many other unforeseen factors
Therefore, these tutorial videos should be used only as a general guide of how to perform a recovery, always consider all the above factors before even starting a recovery and think through the entire process, which is better?
Packing rocks by using a high lift jack, winching forward or back, using a snatch strap, you get the idea…
The Master video below will explain all the 4WD recovery gear, what it is for, what are the alternatives, is it a must have etc.
This Main video will also have links to all the actual off-road recovery videos at the very end; in fact, every new video added will have all links to the next video at the end.
As always, give the video a thumb's up if you like it or learnt from it and leave a comment or question on this page or on YouTube.
Sit back and enjoy.
---

4x4 RECOVERY GEAR EXPLAINED:
---

Snatch strap recovery techniques & tips:
---

How to Join Two Snatch Straps & use them:
---
How To Re-spool winch rope:

---

High Lift Jack: 
Jun 29, 23 08:30 PM

Well 7 of us just traveled to the Pink Lake cv/pk in Esperance. We had such a great time there, all staff were very accommodating and friendly. The camp

Aug 21, 22 04:20 AM

Hi! Welcome to offroad dad and my journey in life doing things on a budget using my hobby offroading touring camping and survival as a way to cope and

Mar 30, 22 02:53 AM

When Camping With Children kids hygiene items like wet wipes (baby wipes) are the best thing for cleaning kids, bring a few spare packets. Don't forget to..
---
Leave 4x4 Recovery And Go 4 Wheeling In Western Australia.
---