Video & 4x4 Adventure Form For Booking. 
Please fill out the Video & 4x4 Adventure form below to sign up for the tour.
After you submit this form, we will contact you by E-Mail regarding payment and how you can pay.
At this stage, payment is available by EFT and PayPal only. If you are using EFT, please E-Mail us a copy as proof of payment because it can take 3-4 days before it shows up in our bank account.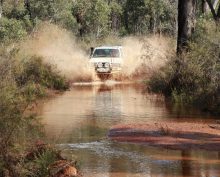 To secure your place a deposit of $50.00 must be paid at  the time of your booking and the remaining amount is to be paid at the latest 30 days before departure.
There is only room for 2-3 cars on these tours so it is important we receive your deposit ASAP. First, to pay deposit is locked in on the tour.
We are only allowing 2-3 vehicles on these video trips as we have 3-4 crew
cars already on each trip.

Both tough trips are $275 each, camp fees included

Holland track $520, camp fees included

Murchison $450, camp fees not included (camp fees to be paid in person $35
per night 3 payments)
---
Leave 4x4 Adventure Form And Go 4 Wheeling In Western Australia.
---
Apr 14, 21 01:29 AM

A 4x4 adventure to Steep Point, the westernmost point of Australia and that alone makes it worth traveling to. The sense of achievement getting to the westernmost point is rewarding...

Apr 14, 21 12:11 AM

The Hilux is the people's vehicle. New owners will be looking to make improvements, and hopefully this Hilux will be an inspiring starting point...

Apr 13, 21 12:21 AM

4wd vs Awd (Best of both worlds).