Video & 4x4 Adventure Form For Booking. 
Please fill out the Video & 4x4 Adventure form below to sign up for the tour.
After you submit this form, we will contact you by E-Mail regarding payment and how you can pay.
At this stage, payment is available by EFT and PayPal only. If you are using EFT, please E-Mail us a copy as proof of payment because it can take 3-4 days before it shows up in our bank account.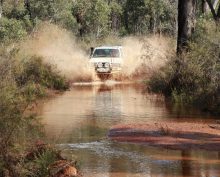 To secure your place a deposit of $50.00 must be paid at  the time of your booking and the remaining amount is to be paid at the latest 30 days before departure.
There is only room for 2-3 cars on these tours so it is important we receive your deposit ASAP. First, to pay deposit is locked in on the tour.
We are only allowing 2-3 vehicles on these video trips as we have 3-4 crew
cars already on each trip.

Both tough trips are $275 each, camp fees included

Holland track $520, camp fees included

Murchison $450, camp fees not included (camp fees to be paid in person $35
per night 3 payments)
---
Leave 4x4 Adventure Form And Go 4 Wheeling In Western Australia.
---
Aug 21, 22 04:20 AM

Hi! Welcome to offroad dad and my journey in life doing things on a budget using my hobby offroading touring camping and survival as a way to cope and

Mar 30, 22 02:53 AM

When Camping With Children kids hygiene items like wet wipes (baby wipes) are the best thing for cleaning kids, bring a few spare packets. Don't forget to..

Mar 30, 22 02:49 AM

If you're in the market for Camping tents there are plenty of options ranging from cheap to expensive and big - small. Depending on what type ....