Sandy Cape And North Head
.
Sandy Cape and North Head 4WD tracks.
Distance from Perth: 225km
Nearest Fuel: Jurien Bay
Size: Multiple 4WD tracks north and south along the coast.
Time to allow: 2 days+ (North Head & Sandy Point 4wd tracks can easily be done as a half day trip or a couple of days of relaxing)
Combine this trip with: Cervantes/Pinnacles, Green Head, Leeman and Stockyard Gully Caves.
North Head, Heading For The Top.
SEE ALSO ACCOMMODATION IN JURIEN BAY.

A short drive on Indian Ocean Drive heading north from Jurien Bay is a 4wd Sandy Cape recreational area, camping is allowed in Sandy Cape see the information board for details.
Part of this area is in the Jurien Marine Park. (See GPS points for way points) There is some really good scenery to be seen in this area.
Fishing is allowed in certain areas and not allowed in other, it is however well signed where you can and can't fish.
The information bay has some worthy maps and wild life info, this is also where you pay your camping fees and get all the information about the marine park, Sandy Cape and North Head.
The Information Bay @ Sandy Cape And North Head.

As you head in on the main gravel road just follow the signs until you come to the information board, take time to read the rules of conduct for the nature reserve and the marine park.
From here head straight on for the main camping grounds or turn left (heading south west towards North Head) down a sand track, from here its 4wd only.
There are so many tracks here that it could be easy to get confused, but don't worry too much as most tracks head in the same direction and meet up at cross roads (an off road GPS will come in handy traveling around Sandy Cape and North Head).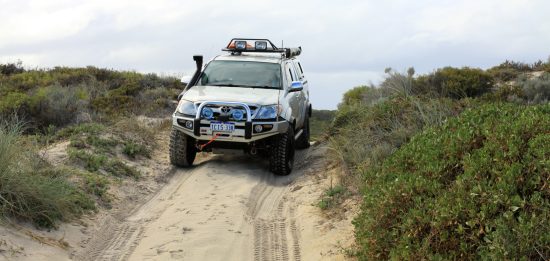 Keep the ocean to your driver's side and keep heading south, on the way you will see heaps of interesting spots worth a look/photo along the coast and the further you head south the better it gets.
One Of The Bunkers At North Head.
Once the terrain and tracks start to get a bit more rocky you are closing in on North Head the southern tip of Sandy Cape (this place is called North Head as it is north of Jurien Bay, & from Sandy Cape it is south), using the beach track (the western most track) you will come across some blow holes, you will actually be driving right next to them to continue onwards (take care to look at where you are driving as the views can be distracting), once past the limestone rocky section you will be back on the sand track that continues to head south.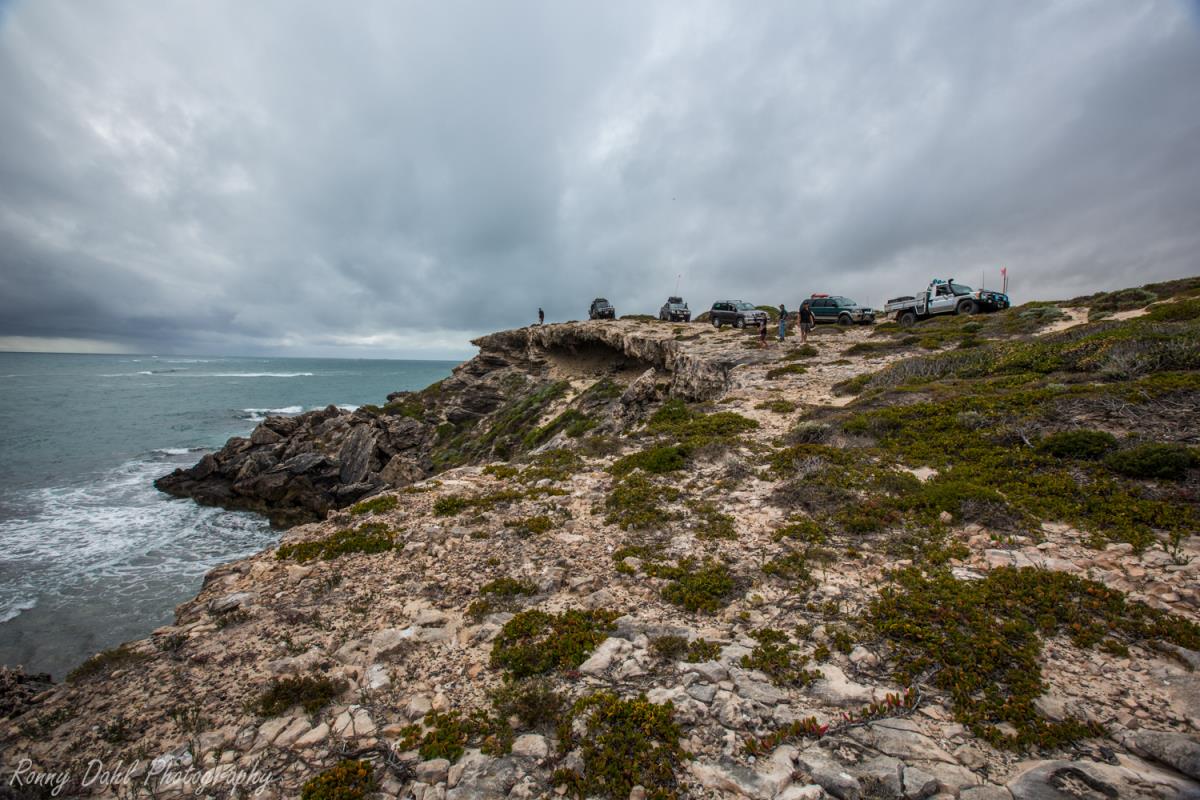 North Head Looking South.
Again keep to the western most track to get the views, also there are heaps of dead end tracks up limestone cliffs and others down to sandy beaches, you pretty much chose you own adventure stuff.
Heading further towards the tip of north head it gets narrow but easy to cross, once over you will be in a large sand bowl which is protected from the wind by almost 360 degrees.
From the sand bowl there are two tracks which lead up to North Head cliff, the top of this cliff is the end of the tack.
On your way up you will notice two abandoned concrete structures which look like bunkers (not sure what they were for, maybe a storm protection shelter for fishermen and/or divers).
Head to the top of the hill taking the track between the bunkers, once at the top you will see the Bartle Monument (this monument is a memorial for Bartle, a skin diver who was fatally attack by a shark at the young age of 23 in 1967).
The views at the top of North Head are awesome, you can really see the raw power of the ocean smashing against the cliff when the swell has picked up, and also you will be rewarded with 360 degree views at the top.
The View At The Top Of The Cliff.
Cliff Hazards!!, take care when close to the edge as the cliffs are overhanging and could be unstable, also best to keep young kids in the vehicle or hold onto them at all times.
On the way down from the top of North Head take the other track down to the sand bowl, look to the north east and you can see Jurien Bay in the distance. From here backtrack to exit (being the information board) or head east hugging the coast to access some nice long stretches of sandy beach and turquoise water. This part is protected by North Head, limited wind and swell will get around. Perfect for snorkelling and swimming. These tracks are awesome and well worth doing, we did this while the weather wasn't the best, it was overcast and scattered showers but we still loved it and will be doing this track again in summer as it will be even better. We spotted a sea lion in the heavy swell so I could just imagine how many there might be on a nice calm day.

Only licensed 4wd are allowed in the recreational area, no trail bikes and quad bikes are allowed at Sandy Cape and North Head.
Fishing is not allowed on North Head however further north towards Sandy Cape you are allowed. Camping at Sandy Cape is allowed and is first in first served basis, see information board on entry for fees.

North Head In The Back Ground.
Sandy Cape and North Head Track conditions and difficulty.
Easy - Medium
Sandy Cape is 2WD gravel track with some corrugations until you reach the information bay and camp grounds, the sand tracks from there are 4WD only. From information bay to North Head is also 4WD only, there are some limestone steps, sand dunes, soft beach sand, rock/cliff limestone & a bit of a hill climb to reach the top where Bartle Monument lays. Nothing is really that difficult apart from the hill climb if you're not a confident driver as it kind of cork screws.
Recommended PSI is 16-20 for the tracks and rock steps, if the beach is too soft drop another 3-4 down to 12-13 PSI.
KNOW THE TIDES
beach gets very narrow.
NOTE* Different terrains change all the time due to weather and track usage.
Always check sand dunes and other tricky areas such as ruts, rocks, off camber tracks or any other unseen or uncertain part of a location/track.
We recommend reading this page which educates how to tackle different types of terrain:
Terrain is mainly sand and lime stone with a little bit of reef.
Jurien Bay Marine Park:
Jurien Bay Marine Park covers an area of over 80,000 hectares of water from Wedge to Green Head, it extends just under 6km offshore.

A big part of the Marine Park is a reef shelf that runs parallel to the shore, it actually starts from Trigg and goes all the way to Dongara. This makes it the largest continuous reef in Australia.

The Marine Park is home to the Australian Sea Lion and you can encounter sea lions from Quinn's Rock to Leeman.

If the weather permits you can try your luck along the coast to see some sea lions or you could do a Marine Park tour, these tours will take you to the sea lions and great snorkelling spots.


Things to do @ Sandy Cape and North Head:
4WD Explore Sandy Cape and North Head

4WD Explore more sand tracks along the coast 4WD to your own stretch of beach and relax for the day Fishing from beaches.

Explore Jurien Bay Marine Park.

Snorkelling & Scrubber diving
What to bring:
Air compressor, shovel, sunscreen, bush hat, plenty of water, rated recovery gear, Surf board, fishing gear, Sun shelter & Camera.
Best time to go:
September-April (best time to go)
May-August (still great if there is no rain)
SEE ALSO ACCOMMODATION IN JURIEN BAY.

GPS Way points:
| | |
| --- | --- |
| For information about How to enter the GPS Way-points into Google Earth see this video. | |
---
For information about How to enter the GPS Way-points into Google Earth
see this video.
---
SANDY CAPE AND NORTH HEAD 4WD TRACK.
Entry to Sandy Cape Recreational Area (Sandy Cape Road):
| | |
| --- | --- |
| Latitude: 30°13'10.60"S | Longitude: 115° 2'14.10"E |
---
Head West from here to information bay:
| | |
| --- | --- |
| Latitude: 30°11'40.71"S | Longitude: 115° 0'26.45"E |
---
Information Bay way point:
| | |
| --- | --- |
| Latitude: 30°11'24.48"S | Longitude: 115° 0'8.60"E |
---
T junction Way Point (Head south to North Head or north west to Sandy Cape):
| | |
| --- | --- |
| Latitude: 30°11'22.08"S | Longitude: 115° 0'7.92"E |
---
Sandy Cape camping area:
| | |
| --- | --- |
| Latitude: 30°11'3.24"S | Longitude: 114°59'52.76"E |
---
Half way to North Head (way point):
| | |
| --- | --- |
| Latitude: 30°12'43.50"S | Longitude: 114°59'55.13"E |
---
Blow Holes:
| | |
| --- | --- |
| Latitude: 30°13'30.34"S | Longitude: 114°59'52.72"E |
---
Sandy Cove:
| | |
| --- | --- |
| Latitude: 30°13'38.38"S | Longitude: 114°59'42.74"E |
---
Narrow crossing to North Head:
| | |
| --- | --- |
| Latitude: 30°13'48.39"S | Longitude: 114°59'48.32"E |
---
Sand Bowl:
| | |
| --- | --- |
| Latitude: 30°13'49.55"S | Longitude: 114°59'45.77"E |
---
Bartle Monument & Top of North Head Cliff:

| | |
| --- | --- |
| Latitude: 30°13'52.21"S | Longitude: 114°59'41.27"E |
---
Turquoise Beaches Protected from Swell & Wind:

| | |
| --- | --- |
| Latitude: 30°13'40.29"S | Longitude: 115° 0'5.00"E |
---
Short cut out to Sandy Cape road (head due north):

| | |
| --- | --- |
| Latitude: 30°13'18.21"S | Longitude: 115° 0'8.15"E |
---
Leave Sandy Cape And North Head And Go To Home Page.

---